SWEET AS CANDY - LADIES FREE B4 12! @ LUXY NIGHTCLUB | DIVA FRIDAYS
Friday November 26th, 2010 @ LUXY Nightclub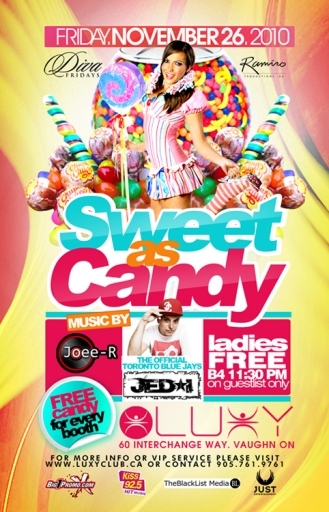 GUESTLIST BENEFITS: LADIES FREE B4 MIDNIGHT
BONUS: Receive a FREE Uber ride (up to $20) for all new riders when you sign up for guestlist or bottle service!
SWEET AS CANDY - LADIES FREE B4 12! @ LUXY NIGHTCLUB | DIVA FRIDAYS @ LUXY Nightclub
Friday, Novemeber 26th, 2010

SWEET AS CANDY @ LUXY NIGHTCLUB | DIVA FRIDAYS

$100 BOTTLES + FREE CANDY FOR EVERY BOOTH!

The City's premier Friday night experience brings together two of the Cities top talents, dj jedi and 4korners, playing best of top 40, hip hop, house and mashup!

Music By: 4Korners & Jedi

Ladies Free Till Midnight on the Guest list "Call If You Want To Get Free Cover 416 262 0897!"

60 Interchange Way, Vaughan On

LUXY was created with a European Supper Club feel and a LAS VEGAS theme! The gorgeous venue is located in none other than Concord, Ontario. In the AMC Plaza at 60 Interchange Way directly in front of the main doors of AMC Interchange.

Fridays have never felt so good.

Why go to Moxies, Jack Astor's or Society when you can come to LUXY NIGHT CLUB on a Friday? It's local and way nicer than any of the before mentioned bars.

The best part is that it does not force ridiculous cover charges like other Friday night venues downtown.

Come see it for yourself. You be the judge!

Call 416 262 0897 BBM 21DEF6FC To Book Your Limo | Booth | VIP Guest list

Limo Deals: Exclusive Deal for Luxy $200 Buses!!!!
- 10 Passenger Limo $20 Per Person
- 14 Passenger Suv Limo $22 Per Person
- 20 Passenger Hummer $20 Per Person
- 25 Passnger Limobus $20 Per Person
- 40 Passenger Limobus $15 Per Person
- 47 Passenger Party Bus $4.25 Per Person
- ***47 Pass Party Bus $200.00***

**Call 416 262 0897 BBM 21DEF6FC to book your limo or bus!**

Address

LUXY Nightclub, 60 Interchange Way, Vaughan, ON

Dates

Friday November 26th, 2010

Dress Code

Stylish (no baggy jeans, athletic shoes, timberlands and sportswear)

Music

Top 40, Hip Hop, R&B, House, Mash Up
LUXY Nightclub Info
Dazzling décor and dramatic multi-dimensional lighting effects set the stage for an extraordinary experience that exhilarates and titillates. Nightly, spectacular interactive events will astound and amaze even the most fervent of club goers. Join us every Friday & Saturday.