The Main Event: Summer Love Edition inside Luxy Nightclub
Sunday September 5th, 2010 @ LUXY Nightclub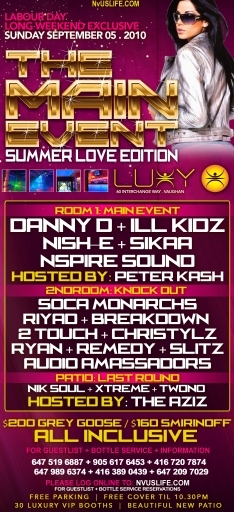 GUESTLIST BENEFITS: Free Before 10:30pm - $10 Till 11:30pm
BONUS: Receive a FREE Uber ride (up to $20) for all new riders when you sign up for guestlist or bottle service!
The Main Event: Summer Love Edition inside Luxy Nightclub @ LUXY Nightclub
On Sunday September 05th, 2010
NvUsLife.com Presents


★ THE MAIN EVENT: Summer Love Edition ★
...inside the world famous
★ LUXY NIGHTCLUB ★
(60 Interchange Way, Vaughan)


- MUSIC INFO -
Main Room: Mashup x Top 40 x Hip Hop x House
DJ DANNY D: Stylus Canada's #1 Club Dance DJ
PETER KASH: The new voice of z103.5
ILL KIDZ: Toronto's Mashup Specialists
SIKAA :Toronto's #1 Draft Picks)
NSPIRE : Toronto's Best Sound Crew
NISH-E :Toronto's up and coming)

Second Room: Reggae x Soca All Night
SOCA MONARCHS: Canada's Soca Sensation
RIYAD: Canada's Soca Legend
2TOUCH x BREAKDOWN x
CHRISTYLZ x REMEDY
RYAN x AUDIO AMBASSADOORS x SLITZ

Patio: Old Skool & Mashups
NIK SOUL x XTREME x TWONO
Hosted By THE AZIZ

Address

LUXY Nightclub, 60 Interchange Way, Vaughan, ON

Dates

Sunday September 5th, 2010

Dress Code

Stylish (no baggy jeans, athletic shoes, timberlands and sportswear)

Music

Top 40, Hip Hop, R&B, Reggae, Soca, House, Mash Up, Pop

DJ's

Toronto's Best Talent under One Roof

Note

- GUEST LIST & MORE INFO -
FREE BEFORE 10:30 On Guest List | $10 Till 11:30PM
Call 647.519.6887 or andrew@nvuslife.com
19+ | Strict Style Code: No runners, headgear, baggy wear
LUXY Nightclub Info
Dazzling décor and dramatic multi-dimensional lighting effects set the stage for an extraordinary experience that exhilarates and titillates. Nightly, spectacular interactive events will astound and amaze even the most fervent of club goers. Join us every Friday & Saturday.