TIFF | CHAMPAGNE FRIDAYS PRESENTS SAFAR LUAU ($100 BTLS) - SEPT17TH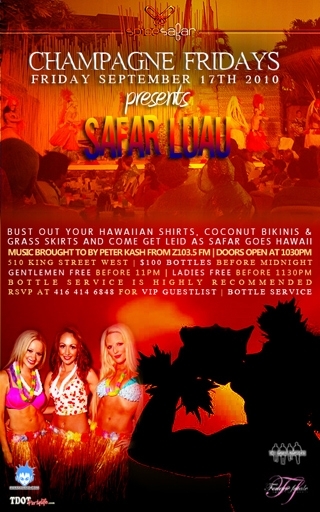 GUESTLIST BENEFITS: FREE FOR LADIES BEFORE 1130PM | REDUCED ENTRY OF $10 UNDER GUESTLIST
BONUS: Receive a FREE Uber ride (up to $20) for all new riders when you sign up for guestlist or bottle service!
TIFF | CHAMPAGNE FRIDAYS PRESENTS SAFAR LUAU ($100 BTLS) - SEPT17TH @ Atelier Nightclub
TIFF | CHAMPAGNE FRIDAYS PRESENTS SAFAR LUAU ($100 BTLS) - SEPT17TH

CHAMPAGNE FRIDAYS PRESENTS SAFAR LUAU ON SEPT 17TH 2010. BUST OUT YOUR HAWAIIAN SHIRTS, COCONUT BIKINIS & GRASS SKIRTS AND COME GET LEID AS SAFAR GOES HAWAII.

GUEST HOSTED BY THE BEAUTIFUL MISS BESOS AND LANI MORRISON

PARTY STARTS AT 1030PM | 19+ EVENT | I.D. REQUIRED

RSVP AT 416 414 6848 FOR VIP GUESTLIST | BOTTLE SERVICE OR VIP@THEUSUALSUSPECTSTORONTO.COM

BOTTLE SERVICE IS HIGHLY RECOMMENDED | $100 BOTTLE SPECIALS BEFORE MIDNIGHT | 2 BOTTLE MINIMUM

*** FREE CHAMPAGNE WITH EVERY 3 BOTTLES ***

GENTS FREE BEFORE 11PM | LADIES FREE BEFORE 1130PM UNDER GUESTLIST | GUESTLIST CLOSES AT 12AM

MUSIC BY PETER KASH FROM Z103.5FM | DRESS TO IMPRESS

PHOTOGRAPHY BY MARC DAVID AND TDOTPARTYLIFE.COM

BROUGHT TO YOU BY THE USUAL SUSPECTS AND THE BEAUTIFUL LADIES OF FEMME FATALE

AUSTIN D
TEL - 416 414 6848
EMAIL - austin@pyschosis.com
BBM - 21AC7F5C
FACEBOOK PROFILE - http://www.facebook.com/profile.php?id=100001213976484

Join our FB group for updates - http://www.facebook.com/group.php?gid=134524148183

Join our FB fan page - http://www.facebook.com/pages/Toronto-ON/THE-USUAL-SUSPECTS/269633506542?ref=mf

Tune into to US24 as we take over the city. Spread the word.

YOUR PROMOTERS. YOUR CITY. US24.
AUSTIN D | JAY M | JUNAID S | MARC

Address

Atelier Nightclub, 510 King St. West, Toronto, ON

Dates

Friday September 17th, 2010

Dress Code

Stylish (no baggy jeans, athletic shoes, timberlands and sportswear)

Music

Top 40, Hip Hop, R&B, Reggae, Mash Up
Atelier Nightclub Info
More clubhouse than club, Atelier offers the perfect antidote to the conventional cocktail lounge or nightlife. Atelier Nightclub is a champagne-splashed, friends-of-friends hideaway where members and invited guests can rediscover the art of the cocktail, great conversation and good old-fashioned misbehaving. This exclusive home away from home at Atelier Nightclub provides all the creature comforts necessary to enjoy the apres dinner drinks, private fetes, or intimate tete-a-tetes.

A fresh take on your favourite rock star's green room, Atelier Nightclub rejects obsequious, hard-edged modernism for the rich and elaborate. Tufted black leather banquets, black crystal chandeliers, wrought iron details and original 18th Century French accents, set off by hand flocked walls, offer a posh patina.