POP CHAMPAGNE 2015
New Year's Eve @ Tryst
2016 EVENT INFORMATION COMING SOON!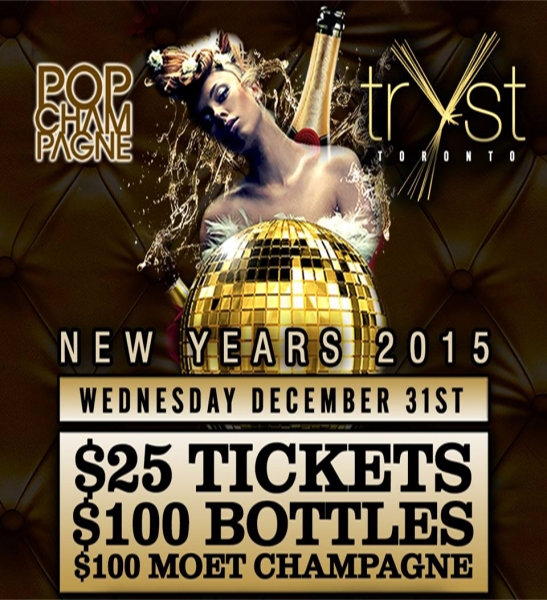 2016 EVENT INFORMATION COMING SOON!
The below event information is from New Year's Eve 2014/ 2015.
Updated information will be available in October 2015. We recommend that customers
like us on Facebook
or sign up for our newsletter to be notified when event listings for New Year's Eve 2016 become available.
Ticket Status: Time Expiration Notification
Tickets for this can no longer be purchased online. However, tickets may be purchased at retail outlets. Please click on the retail outlets tab above too see if tickets are available at locations.
BONUS: Receive a FREE Uber ride (up to $20) for all new riders when you sign up for guestlist or bottle service!
---
Tryst Bottle Service
PRICE: $200
What's Included: 2 bottles of Smirnoff | Tickets are not included | Unlimited Mixers | Private Booth | Line bypass | Tax and tip not included
Reserve Booth
POP CHAMPAGNE 2015 @ Tryst
On Wednesday, December 31st 2014, Tryst Nightclub will be ringing in the new year with their annual New Years Eve event. Don't miss the countdown to 2015 at the hottest Toronto New Years Eve event!

With a sleek, seductive and sophisticated style, Tryst nightclub boasts 2 levels and 2 sounds, with DJs spinning the best in top 40, hip hop and mash ups. Join a trendy crowd of twenty-somethings as we ring in the new year and pop bottles inside the extravagant Tryst Nightclub.

Address

Tryst, 82 Peter St., Toronto, ON

Area

Toronto, Entertainment District

Dates

Wednesday December 31st, 2014

Dress Code

Stylish (no baggy jeans, athletic shoes, timberlands and sportswear)

Music

Top 40, Hip Hop, R&B, Reggae, House, Mash Up

Layout

1200 person capacity, 2 levels + patio
Tryst Info
Part parlour...part garden...part labyrinth under the stars - Tryst Nightclub is a multi-sensory experience that beguiles and enchants. Catering only to a discerning clientele, Tryst Nightclub features three distinct salons that pay tribute to the themes of opulence, extravagance and unspoken sensuality. From the wickedly indulgent to the secretly intimate, an evening at Tryst Nightclub is a journey into pleasure.

Tryst Nightclub has been designed to excite the senses. Sleek, seductive and international in style, each salon offers the luxuries of a premiere nightclub and the amenities of a world-class venue. Near the main entrance, the double-height Havana Lounge wraps each guest in the richness of teal wood paneling; elegant columns and chandelier lighting suggest the intimacy of a secret rendezvous. An ornately sculpted courtyard garden leads Tryst Nightclub guests from the Havana Lounge to the Loft where soaring 20-ft ceilings shimmer with constellations of light. A glimmering cocktail bar teases the eyes with its pearlescent finish while velvet settles overlook the starlit garden and offer the promise of lingering conversations.

From the Havana Lounge or the Loft, a single flight of stairs connects to The Club - the beating, throbbing heart of Tryst Nightclub. A pulsating fusion of sight and sound, The Vegas Suites is a darkly opulent subterranean sanctury. Tryst Nightclub floor to ceiling columns give way to the open space of a dance floor flanked by a shimmering granite bar stretching the length of the room. From the premium service luxury of exclusive VIP booths at Tryst Nightclub, guests overlook the dance floor and its frenzied revelry. Above it all, a shining infinity ceiling reflects the sweat-slicked bodies that merge and move below.

Layout

1200 person capacity, 2 levels + patio