Masquerade New Years 2014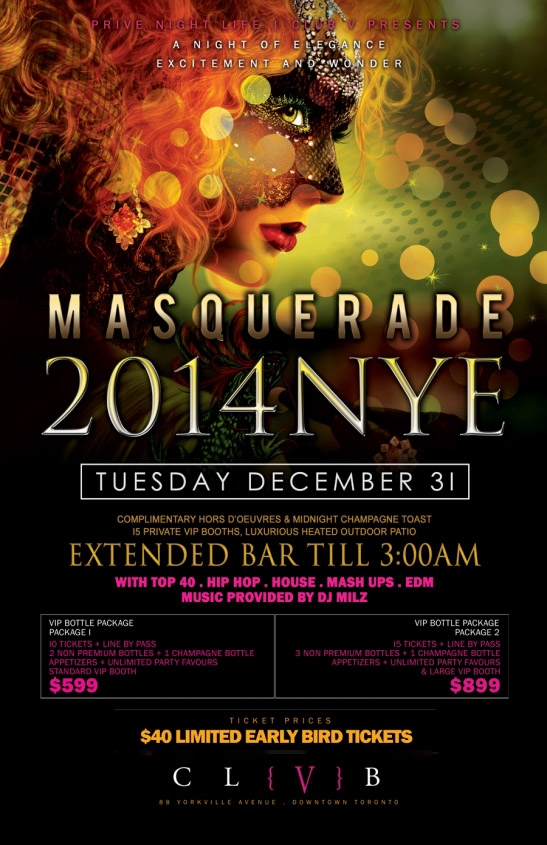 FEATURED NEW YEARS
EVENTS
---
EARLY BIRD VIP PACKAGE #1
PRICE: $600
What's Included: 2 Smirnoff bottles | 1 bottle of Champagne | Appetizers and dessert | VIP booth | Line bypass and cover for up to 10 people | Tax and Tip Included
Reserve Booth
---
EARLY BIRD VIP PACKAGE #2
PRICE: $900
What's Included: 3 Smirnoff bottles | 1 bottle of Champagne | Appetizers and dessert | VIP booth | Line bypass and cover for up to 15 people | Tax and Tip Included
Reserve Booth
---
MAIN BOOTH VIP PACKAGE
PRICE: $1,400
What's Included: 4 Smirnoff bottles | 1 bottle of Champagne | Appetizers and dessert | VIP booth | Line bypass and cover for up to 20 people | Tax and Tip Included
Reserve Booth
Masquerade New Years 2014 @ Club V Nightclub
Join us inside the luxurious Club V for Masquerade New Year's 2014.

With 12 Luxurious VIP Booths, a renovated VIP section, numerous LCD and projection screens, Club V is a taste of the best of what Yorkville has to offer. There is a smoking indoor/outdoor patio. This new years event has sold out every year and will continue to do so in the coming future. Along with these features, this event will also have an extended bar service until 3:00 am, midnight Champagne toast, masquerade masks for the first 400 people and discounted hotel rooms.

Music will be a mix of top 40, hip hop, r&b and mashups.

Address

Club V Nightclub, 88 Yorkville Ave., Toronto, ON

Dates

Tuesday December 31st, 2013

Dress Code

Stylish (no baggy jeans, athletic shoes, timberlands and sportswear)

Music

Top 40, R&B, Reggae, Soca, House, Mash Up

Layout

6,000 sq ft, 800 person capacity, 1 room + patio

Note

Ticket prices are expected to increase.
Club V Nightclub Info
Make the choice of Yorkville's Club V for your hotspot destination. Impeccable design, quality clientele and indulgent service merge amidst Toronto's most prestigious locales. This versatile setting gracefully commands all occasions - intimate gatherings or big splashy celebrations! Join us for the night and create memories never to be forgotten. Inspired by the clubs counterparts in New York, St.Tropez, and Miami; this nightclub was designed with the A-list and Jet Set in mind. Its a new experience in the heart of Yorkville. Treat yourself to Club V!

Club V surpasses the gold standard of its fashionable Yorkville neighbours. Its 6000 sq ft and over 350-person capacity balances sleek decor into an environment of prime comforts. Club V's picturesque main room exhibits blond maple woods with pink tile mosaics to complete a colour palette of great sophistication. The result is a flattering ambiance of unmatched beauty. CLub V also boasts luxurious and elevated bottle service lounges lining its dance floor, a secluded VIP area, and an open air patio with a separate sound system.

Fulfill your Friday and Saturday nights in Yorkville. Weekend nightlife at Club V adds an exclusive setting to your nightclub and party experience. Specialized, upscale service is guaranteed to all patrons; ideal for groups expecting the very best of bottle service pampering. Have a famous night on the town without the hassles of congestion of the downtown scene.

Layout

6,000 sq ft, 800 person capacity, 1 room + patio