St. Patrick's Day Party
Sunday March 17th, 2019 @ Brooklyn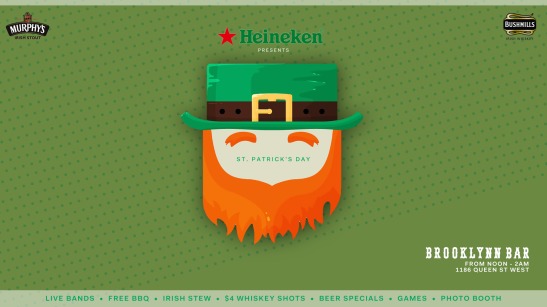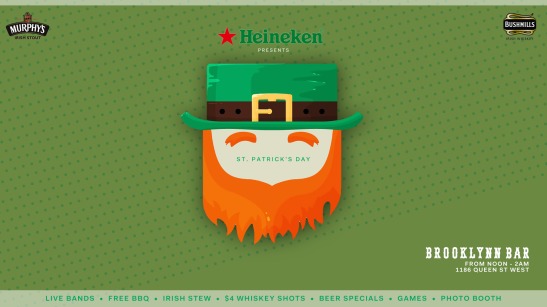 Featured on St. Patrick's Day Event Guide
St. Patrick's Day Party @ Brooklyn
St. Patrick's Day falls on a weekend this year, so you best believe we're going to be throwing down a crazy ALL DAY, ALL NIGHT party. Hands down, this will be the funnest place on the West End where you can get your green on and shamrock til you drop!

We have live music, FREE BBQ, $5 shots of Whisky, $6 Pints, games and patio open until 11pm, our lucky photo booths will transport you to Ireland, and did we mention… one COMPLIMENTARY Heineken with every ticket!

We know, you must be thinking, wowww Brooklynn is going all out this year. Well you're right, but the only catch is we have a very limited number of tickets available for each time slot. So get your friends together and buy your tickets today!

Entertainment Recap (for those of you who skim):

Complimentary beer for those who arrive before 4pm with pre-purchased tickets!

$5 SHOTS OF IRISH WHISKY
$6 PINTS
FREE BBQ ALL DAY
GAMES
LIVE BAND PERFORMANCES by ST. ROYALS
DJ SETS ALL NIGHT

Tickets available at https://www.eventbrite.com/e/heineken-presents-st-patricks-day-at-brooklynn-bar-tickets-54430760871?aff=efbeventtix

For more information/group specials please contact us at www.brooklynnbar.com

Address

Brooklyn, 1186 Queen St W, Toronto, ON

Dates

Sunday March 17th, 2019
Brooklyn Info
With us having worked in this industry since forever, we always envisioned what owning our own bar would be like…. when 1186 Queen Street West, now known as Brooklynn became reality, it was going to be a grass roots kinda place where three fundamentals would be key…
good music ~ good people ~ good times…

A place where red velvet ropes, and egos were checked at the door… we knew this local neighbourhood bar would be a no BS whiskey drinking bar that would be home to those who enjoy a home base where they would always be welcome, any day… anytime.

We try and keep as innovative as possible, being ranked in Toronto Life magazine as "best bottle service", an original idea about serving "the mickey" to our clientele, sets us apart in daring to do things that no one does… "one of a kind ideas" we like to say… Annual Christmas ugly-sweater parties and the anniversary summer patio bash where we set up dunk tanks and massive blow up gorilla's on the patio to raise money for the "Children's Hunger Fund" are some of the ways we say thanks to those who call Brooklynn home all year round… It's all of you that allow us to bring these ideas to life, and we believe that our welcoming manors throughout the entire Brooklynn staff will show you how thankful we are to have you.

Our hours:

Wed – Sat: 9pm until close

Wednesday: Open Mic night
Thursday: Classic Rock covers – Billy Rottman Band
Friday & Saturday: Rock, Old School Hiphop, Dance – Call us for guest list.