Fresh Prince 90's Halloween w/ DJ Skratch Bastid
DUE TO COVID 19 PANDEMIC ALL HALLOWEEN EVE EVENTS HAVE BEEN POSTPONED UNTIL 2021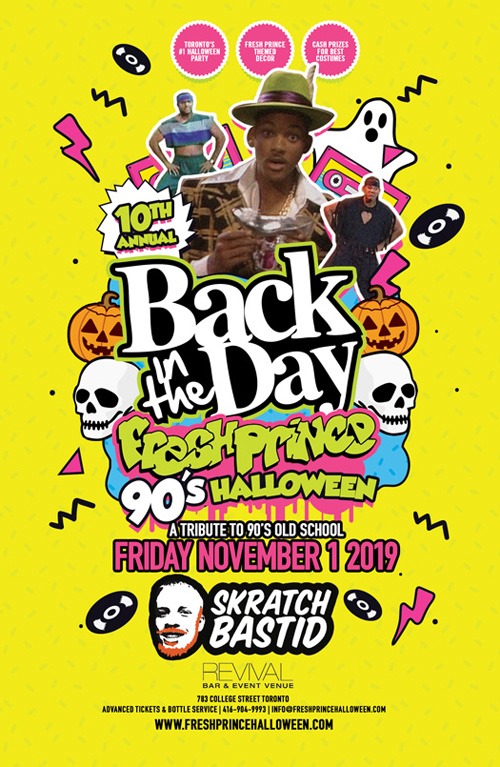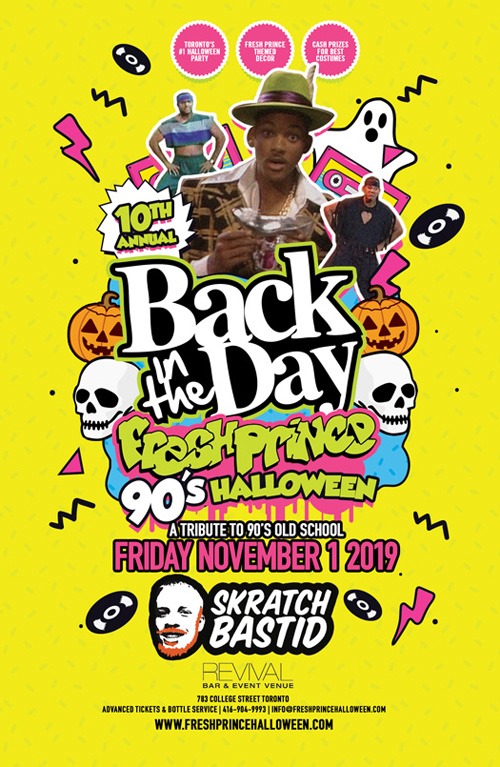 DUE TO COVID 19 PANDEMIC ALL HALLOWEEN EVE EVENTS HAVE BEEN POSTPONED UNTIL 2021
DUE TO COVID 19 PANDEMIC, ALL HALLOWEEN EVE EVENTS HAVE BEEN POSTPONED UNTIL 2021
---
Ashley Banks
PRICE: $550
What's Included: 2 Smirnoff or Captain Morgan Bottles (750ml) | 5 VIP Tickets | Line By Pass | Choice of Mixers | Tax and Tip Included
Reserve Booth
---
Jazzy Jeff
PRICE: $650
What's Included: 2 Belvedere or Hennessy Bottlees (750ml) | 5 VIP Tickets | Line By Pass | Choice of Mixers | Tax and Tip Included
Reserve Booth
---
Carlton Banks
PRICE: $900
What's Included: 3 Smirnoff or Captain Morgan Bottles (750ml) | 10 VIP Tickets | Line By Pass | Choice of Mixers | Tax and Tip Included
Reserve Booth
---
Fresh Prince
PRICE: $1,050
What's Included: 3 Belvedere or Hennessy Bottles (750ml) | 10 VIP Tickets | Line By Pass | Choice of Mixers | Tax and Tip Included
Reserve Booth
Fresh Prince 90's Halloween w/ DJ Skratch Bastid @ Revival Nightclub
Back In The Day's

10th Annual

"Fresh Prince 90's Halloween"

Friday November 1, 2019

A Tribute to Old School Hip Hop, R&B, Dance, House, Reggae, & Pop from the 90's

DJ Skratch Bastid

2 Rooms & 2 Sounds
Fresh Prince Halloween Décor
Top 3 Costumes Win Cash Prizes
Nostalgic 90's Candies

Toronto's Best Old School Halloween Jam

Online Advanced Tickets Available:
http://www.freshprincehalloween.com

Bottle Service Packages Available

Revival - 783 College Street, Toronto

---

The 10th annual Back In The Day "Fresh Prince 90's Halloween" inside Revival on Friday November 1st! A tribute to old school Hip Hop, R&B, Dance, House, Reggae, and Pop from the 90's! Music by the world famous DJ Skratch Bastid with 2 rooms and 2 sounds! Also featuring Fresh Prince Halloween décor, cash prizes for best costumes, and nostalgic 90's candies and treats! Rated Toronto's best old school Halloween jam by BlogTO and sold out 9 years in a row!

---

Advanced Tickets & Bottle Service:

416-904-9993
info@freshprincehalloween.com
www.freshprincehalloween.com

***Want line by pass tickets? Save money and skip the line! Contact us before buying tickets online!

Doors Open at 10PM – 19+ I.D. Required

DUE TO COVID 19 PANDEMIC, ALL HALLOWEEN EVE EVENTS HAVE BEEN POSTPONED UNTIL 2021

Address

Revival Nightclub, 783 College St., Toronto, ON

Area

Toronto, College Street

Dates

Friday November 1st, 2019

Dress Code

Halloween Costumes Encouraged

Music

Halloween Anthems, Old School Beats, Hip Hop, R&B, Reggae, House, Pop, Retro 90's

Bottle Service Contact

416-904-9993

Note

DUE TO COVID 19 PANDEMIC, ALL HALLOWEEN EVE EVENTS HAVE BEEN POSTPONED UNTIL 2021
Revival Nightclub Info
Searching for that perfect mix of tastful music with dramatic inspiration? Look no further. Revival Nightclub is the perfect venue. Revival's space is fun and attractive.

Revival Nightclub's Bar boasts an extensive selection of satisfying, quality beverages, including several imported beers on tap. Check out our eclectic listing of cocktails, martini's, wines, champagnes and culinary delights available every evening. Revival Nightclub's extensive selections, combined with Revival's music and atmosphere will keep you returning for many nights of memorable entertainment.

Revival Bar has been entertaining guests, visitors and fans with the best in live musical performances, the hottest DJ's, live theatre, comedy since 2002… But Revival Bar is so much more. Revival's tasteful and flexible space has seen it host hundreds of corporate parties, be a studio for movie shoots, held wrap parties, fashion shows, weddings, symposiums and tradeshows.

Over the years, Revival is proud to have enjoyed artists such as Justin Timberlake, Black Eyed Peas, Kid Rock, Sara McLaughlin, Nelly Furtado, Cowboy Junkies and guests none other than Robin Williams, Conan O'Brien, Ving Rhames and Tyrees to name a few.

With the renovation and addition of Stone Lounge downstairs, Revival Bar has evolved into a full entertainment complex boasting three floors for private parties and separate events.

Revival Nightclub's live music facilities include a stellar sound system, stage and green room for talent. Revival Nightclub features local music ranging from jazz to R&B, soul, funk, rock and blues. It's the perfect venue for a great night out!!