Everleigh Halloween 2021
Sunday October 31st, 2021 @ Everleigh
This flyer is from 2019 - 2022 to be released soon!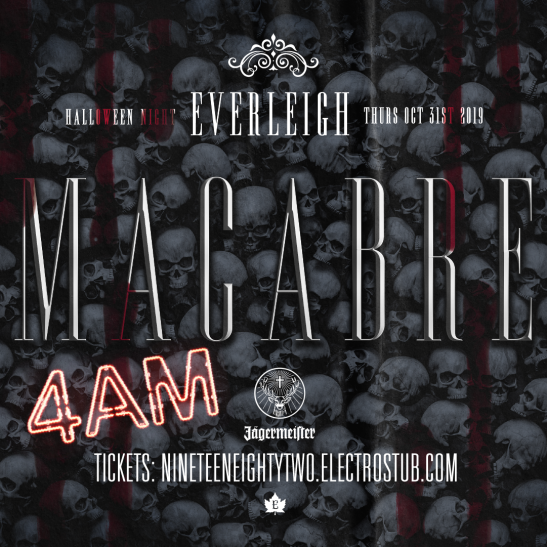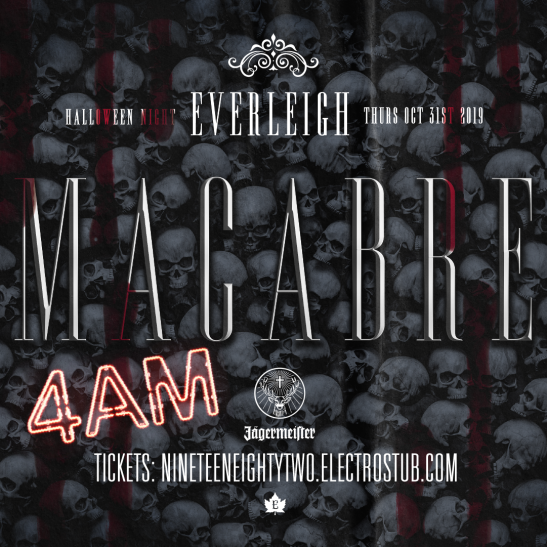 This flyer is from 2019 - 2022 to be released soon!
Featured on Club
crawlers

4 Different venues, 1 price, 1 night only. Get your tickets as this event sells out EVERY YEAR!

Right beside the CN Tower this event will be the talk of the City. Get your Tickets inside The Pint for Halloween Saturday bc its about to be a show.
GUESTLIST BENEFITS: For the latest on HALLOWEEN 2021 sign up on our newsletter! or Follow us @clubcrawlers for the latest updates!
Everleigh Halloween 2021 @ Everleigh
Macabre | Halloween Night-
Sunday , October 31st, 2021



Bottle Service-
📞 (647) 907-6673
✉️ info@theeverleigh.ca

Get Social-
☞ @EverleighTO

www.TheEverleigh.ca
580 King St. W.

Address

Everleigh, 580 King Street West, Toronto, ON

Dates

Sunday October 31st, 2021

Crowd

Mature, Young Professionals
Everleigh Info
Everleigh on King West boasts a small courtyard patio outside of their concept driven venue where art, music, design and service all come together to provide an entertaining social experience in a truly unique venue. Created by the Capture Group and designed by Prototype Design Lab. The Everleigh is truly something fresh fusing old and new world concepts across two rooms to create a mature yet fun social experience while still offering next-generation club-goers a solid place to dance. The Everleigh also acts as a showcase for local and international artists and local performers.

The space includes original artwork by American street artist Alec Monopoly. With The Everleigh, Capture Group celebrates and re-interprets Canadiana, marrying iconic vintage ideas with street-edge design while adding a sexy opulent flair reminiscent of Chicago's Everleigh Brothel in the early 1900s. Century-old antiques and bespoke art installations pepper the space. Creative integration of the discontinued copper penny infuses shine and texture throughout the venue; while Muskoka-themed washrooms offer a new take on an old world canoe. A flock of geese across the ceiling is a key focal point in the lounge representing the migration and evolution of King West in Toronto.

The Everleigh is open to the public every weekend as well is available for Private events and Corporate functions.