St Patricks Day 4am Last Call
Saturday March 17th, 2018 @ Everleigh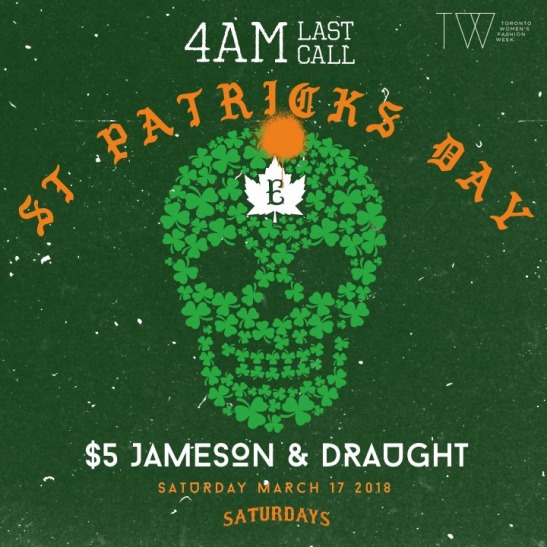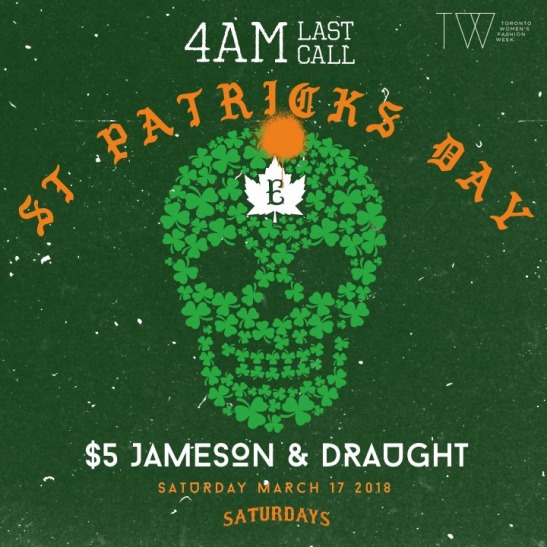 Featured on St. Patrick's Day Event Guide

Food Music Pool Access on Toronto's Largest Poolside Patio

Get your daytime fix at Cabana Pool Bar Patio

Lavelle - Great for a Date Night. Great Snap for your IG.

The Baro is where traditional latin culture and cuisine is reimagined with distinct modern flair and becomes something entirely its own.

The Porche Rooftop Patio with an amazing view of the CN Tower!

EFS in the Heart of Toronto's Entertainment District. Enjoy food and drinks at this top notch establishment.
St Patricks Day 4am Last Call @ Everleigh
St. Patricks Day 4AM Last Call!

Be a VIP and hop on the guest list here:
***bit.ly/EverleighSatGL***

A party for everyone with everything you want to hear

▬▬▬ஜ۩۞۩ஜ▬▬▬

VIP BOTTLE SERVICE
Group Bookings & Guest List Inquiries:
647.907.6673 | info@theeverleigh.ca

▬▬▬ஜ۩۞۩ஜ▬▬▬

- Get Social -
@everleighto
@capturegroup

▬▬▬ஜ۩۞۩ஜ▬▬▬

www.theeverleigh.ca
580 King St. West, Toronto

▬▬▬ஜ۩۞۩ஜ▬▬▬

DOORS OPEN AT 10:00 PM.

Address

Everleigh, 580 King Street West, Toronto, ON

Dates

Saturday March 17th, 2018

Crowd

Hipster, Mature, Young Professionals
Everleigh Info
Everleigh on King West boasts a small courtyard patio outside of their concept driven venue where art, music, design and service all come together to provide an entertaining social experience in a truly unique venue. Created by the Capture Group and designed by Prototype Design Lab. The Everleigh is truly something fresh fusing old and new world concepts across two rooms to create a mature yet fun social experience while still offering next-generation club-goers a solid place to dance. The Everleigh also acts as a showcase for local and international artists and local performers.

The space includes original artwork by American street artist Alec Monopoly. With The Everleigh, Capture Group celebrates and re-interprets Canadiana, marrying iconic vintage ideas with street-edge design while adding a sexy opulent flair reminiscent of Chicago's Everleigh Brothel in the early 1900s. Century-old antiques and bespoke art installations pepper the space. Creative integration of the discontinued copper penny infuses shine and texture throughout the venue; while Muskoka-themed washrooms offer a new take on an old world canoe. A flock of geese across the ceiling is a key focal point in the lounge representing the migration and evolution of King West in Toronto.

The Everleigh is open to the public every weekend as well is available for Private events and Corporate functions.