EXCLUSIVE FRIDAYS (Russian Style)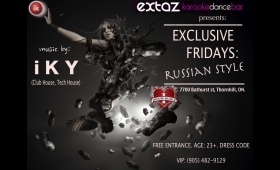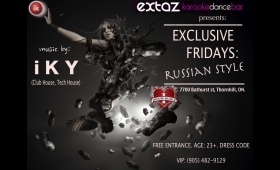 Featured on Club
crawlers

Food Music Pool Access on Toronto's Largest Poolside Patio

Get your daytime fix at Cabana Pool Bar Patio

Lavelle - Great for a Date Night. Great Snap for your IG.

The Porche Rooftop Patio with an amazing view of the CN Tower!

The Baro is where traditional latin culture and cuisine is reimagined with distinct modern flair and becomes something entirely its own.

EFS in the Heart of Toronto's Entertainment District. Enjoy food and drinks at this top notch establishment.
EXCLUSIVE FRIDAYS (Russian Style) @ Extaz Nightclub
DEAR FRIENDS, WE WOULD LIKE TO REPRESENT YOU OUR NEW STYLISH LINE OF THE PARTIES:
***EXCLUSIVE FRIDAYS: RUSSIAN STYLE***
_________________________________________________
ONLY @EXTAZ LOUNGE YOU WILL LISTEN THE BEST HITS OF CLUB MUSIC FROM ALL OF THE WORLD AND FOR SURE FROM THE BEST NIGHTCLUBS IN RUSSIA AND EUROPE.

MUSIC BY OUR SPECIAL GUEST DJ: IKY
http://promodj.com/ik-junior
https://soundcloud.com/ik-junior
… AND GUEST DJ'S

DOORS OPEN: 10.00 PMENTRANCE FREE
DRESS CODE
GENTLEMEN: 23+LADIES 21+

BOTTLE SERVICE and RESERVATIONS:(905) 482 9129
http://www.extazlounge.com/
7700 Bathurst St. #43-44 Thornhill Ontario L4J 7Y3
-----------------------------------
ДОРОГИЕ ДРУЗЬЯ!

МЫ РАДЫ ПРЕДСТАВИТЬ ВАШЕМУ ВНИМАНИЮ ОЧЕРЕДНУЮ СЕРИЮ МЕРОПРИЯТИЙ ПО ПЯТНИЦАМ В EXTAZ LOUNGE ПОД НАЗВАНИЕМ:
***EXCLUSIVE FRIDAYS: RUSSIAN STYLE***

ТОЛЬКО У НАС ВЫ СМОЖЕТЕ УСЛЫШАТЬ СВЕЖИЕ НОВИНКИ МИРОВЫХ ТАНЦПОЛОВ, А ТАКЖЕ САМУЮ СТИЛЬНУЮ РУССКУЮ МУЗЫКУ ИЗ ЛУЧШИХ НОЧНЫХ КЛУБОВ РОССИИ, УКРАИНЫ.

ДЛЯ ВАС БУДЕТ ИГРАТЬ НАШ РЕЗИДЕНТ - IKY
http://promodj.com/ik-junior
https://soundcloud.com/ik-junior
… И ДРУГИЕ

ВХОД БЕСПЛАТНЫЙ
ДРЕСС КОД
ВОЗРАСТ: 23+
Дополнительная информация и заказы VIP - (905) 482 9129

ЖДЕМ ВАС ПО ПЯТНИЦАМ!

Address

Extaz Nightclub, 7700 Bathurst st, Thornhill, ON

Area

Toronto, Richmond Hill

Dress Code

Stylish (no baggy jeans, athletic shoes, timberlands and sportswear)

Music

Top 40, House, Techno, Euro

Note

THE PATIO SEASON IS NOW OFFICIALLY OPEN!!
Half Price Drinks for Everyone who will Mention this post, only Before 10pm!
Extaz Nightclub Info
Spending an evening at Extaz Fine Dining & Lounge is an unforgettable experience. The setting is perfect for an evening out with friends or an intimate dinner for two. Augmented by our sophisticated decor, our remarkable menu, and great cocktails, Extaz Lounge is truly an enjoyable experience. Our attentive staff will cater to your every need so that you can truly unwind and enjoy a lasting stay with us. People say that Extaz is classy and warm. Whether bathed in autumn reds or cool indigo, the overall atmosphere is of sociability, ease and enjoyment. The experience is heightened by our DJs spinning cool lounge tracks during the evenings and an array of modern styles further in to the night. For the artist in you, Extaz Lounge runs an open mic karaoke program every Wednesday and Sunday starting at 9:00pm. Toronto's best jazz musicians perform every other Thursday for those who enjoy and appreciate live music.

NOTE: All guests are encouraged to make reservations via phone whether you choose from our Prix Fixe menu or order "A la Carte" .

Bottle Service Reservations : Please confirm your reservation via phone , sending an email request does not secure your reservation.