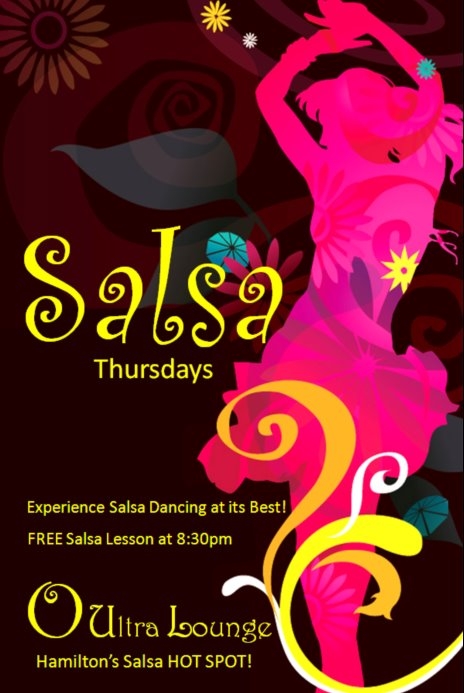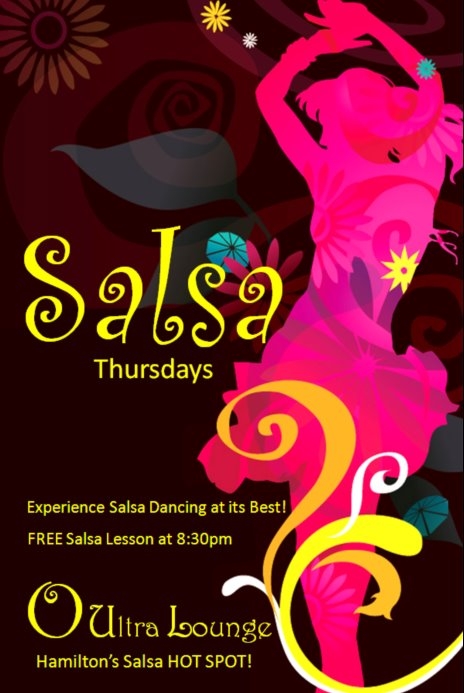 Salsa Thursday's @ O Ultra Lounge Nightclub
Hamiltons longest running Salsa and Latin music night!

Winner of View magazines Gold Readers Choice for best Salsa/Latin Night!

Join us every Thursday night at 8:30 for salsa lessons!

Whether youre a beginner or a veteran dancer, you will learn exciting new steps in our 1 hour class. Well take you from basic moves to advanced patterns.

Walk in. Dance Out!

no partner or experience required.

Afterward, dance the night away to the intoxicating latin and salsa beats!

Lessons and Dance for only $5

Address

O Ultra Lounge Nightclub, 612 Upper James st, hamilton, ON, L9C 2Z1

Dress Code

Casual (no sportswear or hats)
O Ultra Lounge Nightclub Info
O Ultra Lounge is bringing sex appeal and exotic brilliance to Hamilton by introducing an atmosphere that's sinful to the touch and provocative to the eyes.

Come visit this hidden secret located at 612 Upper James St. (above Cafe Palazzo), and experience a whole new level of intimate and interactive socializing. It's a nouveau gathering spot for old and new friends and lovers. A setting that hints all things sensual.

O Ultra Lounge supplies a unique atmosphere and captivating style through its decor, a feeling of "seduction" fueled by vivid wall colors of mauve, fuscia, and blue. The attention to detail is limitless; from the architectural curves, to the suede and chiffon fabrics that surround you – from the oak floating staircase that leads to an upper level of posh, to the intimate seating plan that invites all to an intriguing night of conversation and playful flirtation. The windows speak for themselves while leaving you breathless with its historical beauty.

The decor is just one of the things to look forward to when you come to O Ultra Lounge. This wide open space of "cool" will surround you with funky, ambient, house, soul, and Latin music, a friendly maturity in service, and an array of the most popular drinks.

This new wave of sexy is Hamilton's promise of an experience worth remembering. O Ultra Lounge serves the drinks, the decor and the maturity.