Industry New Years Day
Monday January 1st, 2018 @ Uniun
SALE! Pay No Service Fees!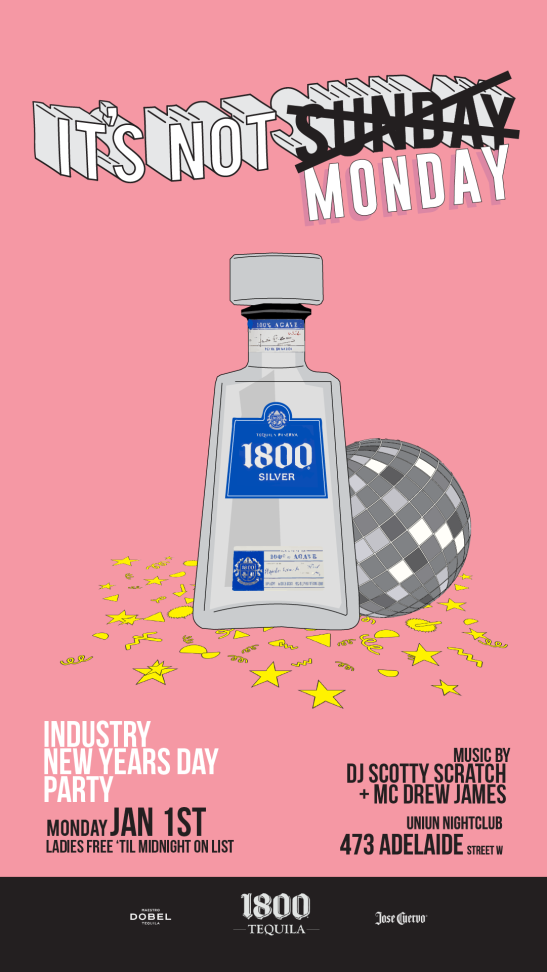 SALE! Pay No Service Fees!
Cyber Sale! Pay No Service Fees For A Limited Time Only!
Industry New Years Day @ Uniun
Cyber Sale! Pay No Service Fees For A Limited Time Only!

JANUARY 1ST, 2018

INDUSTRY NEW YEARS DAY PARTY

IT'S NOT MONDAY!

Join us on January 1st, 2018 and Toronto's Uniun Nightclub, it's a New Year but the Same You. The New Years Day party is designed for those who missed the chance to celebrate NYE or want to continue last night's festivities.

MUSIC by DJ Scotty Scratch and MC Drew James

LADIES FREE 'TIL MIDNIGHT On Guestlist

Address

Uniun, 473 Adelaide St. West, Toronto, ON, ON

Area

Toronto, Entertainment District, King West

Dates

Monday January 1st, 2018

Dress Code

Stylish (no baggy jeans, athletic shoes, timberlands and sportswear)

Music

Top 40, Hip Hop, R&B
Uniun Info
Described as the perfect marriage of ultra-modern technology and industrial appeal, Uniun Nightclub is slated to be the first nightclub of its kind in Toronto. Boasting multi-dimensional audio and visual imagery, you can expect Uniun to come equipped with a state-of-the-art sound system and impressive LED-light installations.

With 14-ft bronze metal arches, old-timey chandeliers, wood accents, and a scatter of throwback curiosities ranging from apothecary bottles to crystal spheres, Uniun Nightclub is poised to become yet another Toronto clubbing institution.

An impressive space that echoes to a time passed, Uniun Nightclub is an arresting contradiction of both new and old. Original post factory beams nestle between 14 foot bronzed, metal arches reminiscent of weathered steel bridges, while they elegantly contrast by a wash of the latest in luminescent technology. Fit for the future, and as brilliant as a kaleidoscope, the state-of-the-art LED lighting system and vast LED screens bring movement and texture to any musical experience.

Fringed by lush, tufted VIP banquette seating, that mimic Edwardian splendor and contrasted by raw grey cement wall finishes, aged wood and industrial lighting fixtures, Uniun Nightclub was manufactured with bottle service in mind. Offering a variable collection of liquors and champagnes ready to be toasted, sipped and enjoyed.

Heighten the ultimate nightlife experience with a notable roster of international and local DJ's playing to the masses, with a heart pounding sound systems ready to elevate your experience. Music comes to color and revelers come to life as this duo level temple of sound and vibe, cater to your every entertainment fancy.