New Beers Eve '18
Dec. 31st 2017 (New Years Eve 2018) @ Mascot Brewery
SALE! Pay No Service Fees!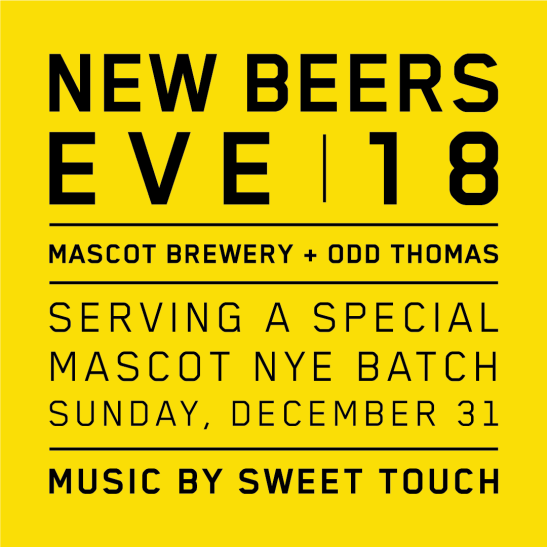 SALE! Pay No Service Fees!
Cyber Sale! Pay No Service Fees For A Limited Time Only!
New Beers Eve '18 @ Mascot Brewery
Cyber Sale! Pay No Service Fees For A Limited Time Only!

On December 31st, Mascot Brewery and Odd Thomas will merge, offering two distinctive yet complimentary vibes for revelers. On the ground floor, Mascot will be serving a 3-course prix fixe dinner prepared by Chef Jon Williams and will flow right into the night's festivities, celebrating the new year with craft beers and cocktails. Just upstairs on the 2nd floor, you'll find a wild dance party in Odd Thomas with the drinks flowing and beats bumping. A casual flow between the two floors will give you the opportunity to curate your ideal NYE celebration - ringing in the new year surrounded by incredible food, delicious beers and cocktails, and great tunes.

Both floors will be decked out and pumping great vibes with some of Toronto's finest. SWEET TOUCH will be spinning all night, playing your favourite hip-hop tracks new and old, while mixing it up to always keep you moving.

It wouldn't be NYE if there wasn't champagne at midnight, and Mascot Brewery and Odd Thomas wouldn't have it any other way as we will be providing complimentary champagne toasts as the clock strikes 12. Toasting to a new year, Mascot and Odd are anxiously waiting to celebrate with foodies and party-goers alike.

Address

Mascot Brewery, 31 Mercer Street, Toronto, ON

Event Type

New Year's Eve Event

Dates

Dec. 31st 2017 (New Years Eve 2018)

Crowd

Young Professionals

Dress Code

Stylish (no baggy jeans, athletic shoes, timberlands and sportswear)

Music

Top 40, Hip Hop, R&B
Mascot Brewery Info
Mascot Brewery is a microbrewery-meets-restaurant-meets-retail-store and showcases the Brewery's beers alongside a seasonal menu by acclaimed Chef Rory McGouran. Mascot finely balances an industrial, contemporary aesthetic with a warm and inviting atmosphere.