SALE! Pay No Service Fees!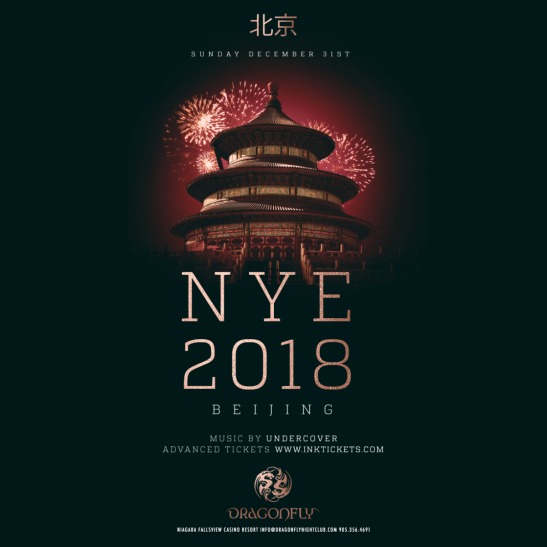 SALE! Pay No Service Fees!
Cyber Sale! Pay No Service Fees For A Limited Time Only!
NYE 2018 BEIJING @ DRAGONFLY Nightclub
Cyber Sale! Pay No Service Fees For A Limited Time Only!

Sunday, December 31st, 2017

NYE 2018 BEIJING

Dragonfly Nightclub invites you to their annual NYE celebration!

The best party in Niagara Falls takes place on Sunday, December 31st 2017 as we ring in the new year in style with Dragonfly Nightclub.

Music by Undercover

Address

DRAGONFLY Nightclub, 6380 Fallsview Blvd, Niagara Falls, ON, L2G 7X5

Area

Niagara/ St. Catherines

Event Type

New Year's Eve Event

Dates

Dec. 31st 2017 (New Years Eve 2018)

Crowd

Mature, Young Professionals, Students

Dress Code

Stylish (no baggy jeans, athletic shoes, timberlands and sportswear)

Music

Top 40, House, Mash Up, Pop
DRAGONFLY Nightclub Info
Located on a stunningly landscaped eight-hectare property, the Niagra Fallsview Casino Resort, Dragonfly is a fully featured entertainment facility offering more than 10,000 square feet of well appointed leisure space within Canada's largest commercial development, Niagara Falls.

Dragonfly, a four million dollar project, includes an intricate asian infused theme containing many interrelated elements including a portable sushi bar, all courtesy of mungle/leung design associates. The venue yields a capacity of approximately 800 people and is perfect for multimedia presentations, corporate events, fashion shows and cross promotions with the casino's Avalon Room.

Dragonfly offers locals and visiting tourists a trendy, fun, social environment, mimicking service and decor of a Las Vegas casino.

For driving, walking or transit directions on how to get to the address: 6380 Fallsview Blvd (L2G 7X5), please use the Google Map provided here.