A Midnight in Paris
New Year's Eve @ Switch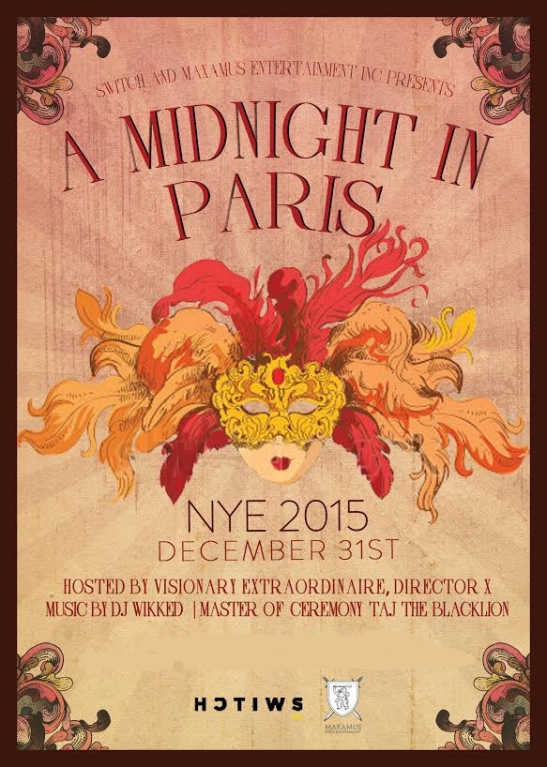 ---
Switch NYE VIP Package
PRICE: $1,200
What's Included: 4 Premium Bottles | 6 Entries | Max 10 people to a group | Mixers | Tax and Tip Included
Reserve Booth
A Midnight in Paris @ Switch
There's a new nightbclub in town and it's making a splash with it's New Years event! Switch & Maxamus will be hosting "Midnight in Paris" on Wednesday, December 31st to welcome the arrival of 2015. This part nightclub and part lounge venue has been billed as the "newer and fresher F-Stop".

Midnight in Paris will be hosted by Director X and features music by Toronto's Own DJ Wikked! Guests will hit the dance floor and party into dawn to the latest Top 40 hits. Attendees can expect a diverse crowd of young professionals and thirty-somethings dressed in masquerade.

Tickets are now available for $40. Join us on midnight and countdown the arrival of the New Year.

Address

Switch, 55 Colborne St, Toronto, ON

Hours

Doors open at 9:00pm

Dates

Wednesday December 31st, 2014

Crowd

Mature, Young Professionals

Dress Code

Stylish (no baggy jeans, athletic shoes, timberlands and sportswear)

Note

Ticket prices are expected to increase.
Switch Info
There's a new nightclub in town that is set to revive the space at 55 Colborne Street. Renowned Toronto restaurateur and nightlife curator Hanif Harji officially opened Switch Nightclub for business on May 3rd, 2013.

Described as part nightclub and part lounge, Switch boasts a munch and sip every Friday and Saturday night between 5pm-10pm.

Now accommodating the space where The Bowery once stood, Switch Nightclub is being billed as the "newer and fresher" F-Stop. And similar to F-Stop, on Friday nights the crowd tends to grow steadily until the place is suddenly packed somewhere around 11:30pm and 12:00am.