MARY CHRISTMAS @ LUXY NIGHTCLUB
Friday December 24th, 2010 @ LUXY Nightclub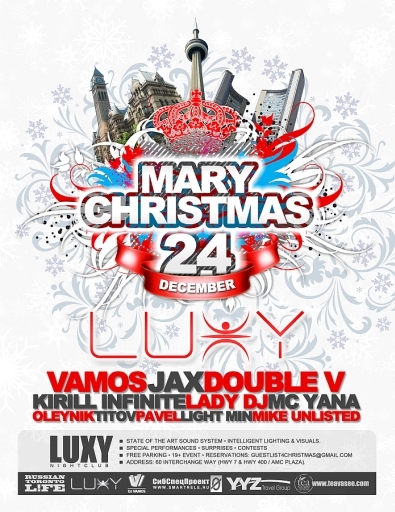 GUESTLIST BENEFITS: Free until 11pm
MARY CHRISTMAS @ LUXY NIGHTCLUB @ LUXY Nightclub
The One and Only Christmas Extravaganza @ The Legendary LUXY NIGHTCLUB!!!
2 ROOMS - 2 SOUNDS
State of the Art Sound System • Intelligent lighting & Visuals.
Special Performances • Surprises • Contests
Free parking • Outdoor patio • 19+ Event, ID Required
Admission: $20 before midnight • More after
Address: 60 Interchange Way (HWY 7 & HWY 400 / AMC Plaza).

Special thanks to:
- СибСпецПроект - http://smartrele.ru/
- Russian Toronto Life! - http://www.rusiantorontolife.com/
- Tea Va See - http://www.teavasee.com/
- Cashforgold.TO - http://cashforgold.to/
- YYZ Travel - http://www.yyztravel.com

Address

LUXY Nightclub, 60 Interchange Way, Vaughan, ON

Dates

Friday December 24th, 2010

Dress Code

Casual (no sportswear or hats)

Music

Top 40, House, Techno, Euro, Mash Up, Electro

DJ's

Vamos, Double V, Jax, Kirill Infinite & Lady DJ....
LUXY Nightclub Info
Dazzling décor and dramatic multi-dimensional lighting effects set the stage for an extraordinary experience that exhilarates and titillates. Nightly, spectacular interactive events will astound and amaze even the most fervent of club goers. Join us every Friday & Saturday.