Soca or Die
Friday December 22nd, 2017 @ Rebel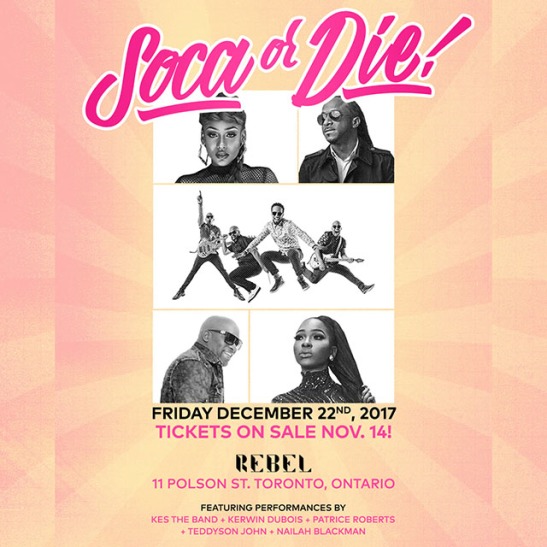 Soca or Die @ Rebel
Toronto! Get ready for one big show before the year is done. #SocaOrDie!

Friday, December 22nd, 2017

Rebel (Downtown Toronto)

Featuring:
KES THE BAND
KERWIN DUBOIS
PATRICE ROBERTS
TEDDYSON JOHN
NAILAH BLACKMAN

This is the announcement you've been waiting for.

SOCA OR DIE at REBEL on FRIDAY DECEMBER 22ND.

Welcome to FETELAND.

Address

Rebel, 11 Polson Street, Toronto, ON, M5A 1A4

Dates

Friday December 22nd, 2017

Dress Code

Casual (no sportswear or hats)

Music

Reggae, Soca, Live Music

Layout

45,000 sq ft nightclub, with a 65 ft stage

Note

Soca or Die ticket prices to be announced.
Rebel Info
Aiming to set a new industry standard for nightlife and entertainment in Toronto, REBEL merges 45,000 square feet of striking design and unexpected wonder along with powerful sound, immersive light, sensual forms and tactile details to delight and astound at every turn. Transporting guests to an innovative, multimedia universe, REBEL features theatrical lighting, video production, experiential storytelling and interactive performances, all choreographed to evolve throughout the night. With breathtaking views of the city skyline, waterfront and the dramatic 65-foot stage, wherever you are is right where you want to be.

It's time to rise up. Let the music guide you. And the moment transforms you. Every Saturday is a Revolution.

Layout

45,000 sq ft nightclub, with a 65 ft stage