BLND TGER RESTOBAR
559 College Street, Toronto, ON
---
BLND TGER RESTOBAR Info
BLND TGER (pronounced 'Blind Tiger')

559 College St

BLND TGER is the best option for an inspired night out on Toronto`s famed College Street

This is BLND TGER
Crowd
Young Professionals, Students
Area
Toronto, College Street
Dress Code
Stylish (no baggy jeans, athletic shoes, timberlands and sportswear)
Notes
BLND TGER (pronounced 'Blind Tiger')
---
BLND TGER RESTOBAR Events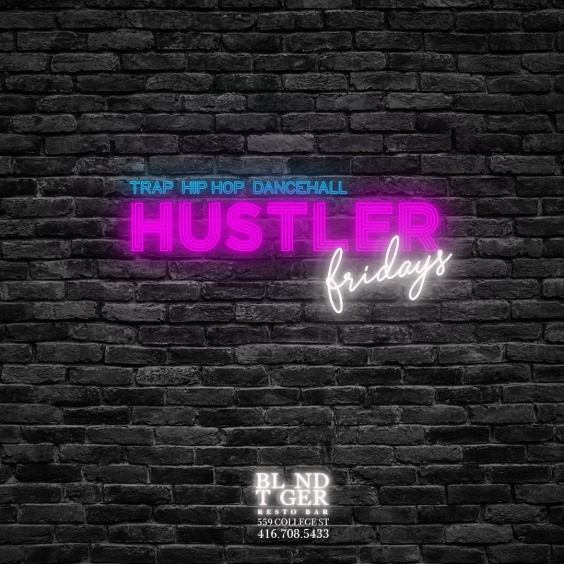 Fridays @ BLND TGER RESTOBAR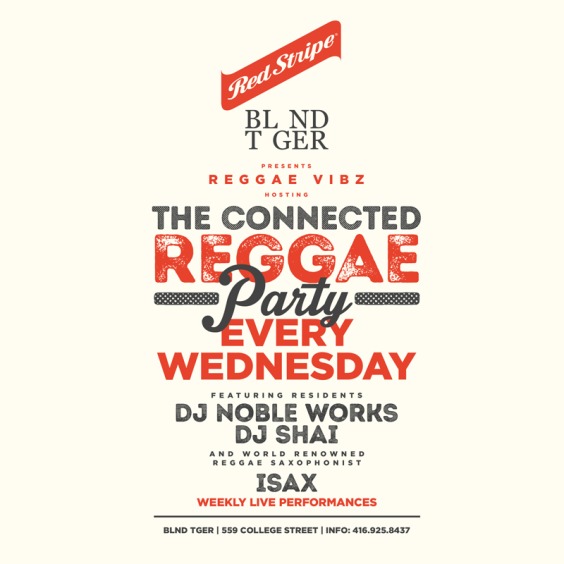 Wednesdays @ BLND TGER RESTOBAR
BLND TGER RESTOBAR Reviews
Had A Good Time
submitted by Randy for BLND TGER RESTOBAR on March 31, 2015
I went to this new club last weekend and had a blast, totally different type of nightclub. we played video games and had bottles which is awesome, while starting from scratch played what he does best, would definitely go back sooner than later if choosing which nightclub to hit.
AMAZING
submitted by SEAN for BLND TGER RESTOBAR on July 13, 2015
Had a great night, a lot of pretty ladies and the games were awesome great vibe and music.
Definitely going again!
Level of disrespect from security was a joke
submitted by Steven for BLND TGER RESTOBAR on June 4, 2017
Came here with a group of friends. Was treated with embarrassing level of disrespect by "head of security and one other female bouncer, neither of which would disclose their names."

I know people want cheap drinks but nobody deserves being subject to that level of disrespect by a venue that they're paying for.
Bouncer is the Rudest Ever
submitted by Andy for BLND TGER RESTOBAR on May 8, 2017
I had an engagement celebration at blnd tiger and first of all the bouncer was outright rude to my entire party, i probably had close to 25 people coming for this event and booked 2 booths. We spent a considerable amount of money for bottle service and some of our guest were not allowed entry and told to stand outside in the freezing weather. Our cousins were denied entry as well. Terrible first experience, i will not be hosting a large event here in the future.
Best Birthday Ever!!
submitted by Ariel for BLND TGER RESTOBAR on November 19, 2016
I reserved a booth on a saturday for my birthday. The management was super nice in helping my group to our booth and a few more late-comers as well. The mc is absolutely hilarious. There aren't many clubs that do throwbacks so it was a really nice surprise to be able to sing/scream the lyrics to hypnotize by biggie after a bunch of birthday shots. I even got nachos from the kitchen before the night was over which were to die for. I would definitely recommend this place.
WORST MANAGEMENT/CUSTOMER SERVICE
submitted by Steph for BLND TGER RESTOBAR on July 1, 2016
Blnd tger is the worst experience i've ever had at a club/bar. Firstly my friend emailed and made sure they confirmed that we were on the guest list. We get there around 12am, usually the busiest time for most clubs, should've know this place was a dump when there was no line. We go in and my friend tells the girl that she is on the guest list, but apparently we're not on her "list" so we have to pay the cover fee. My friend shows her the confirmation email but the girl insists that her list is final. We don't really want to make a scene and cause any problems so we pay the cover fee. At the bar, we ask to speak to the manager so we can figure out why we weren't put on the list. None of us were shouting or making a big scene, we just wanted to know why we were on the list. The manager starts telling my friend she needs to "cut the attitude" and that there's no need to yell and be rude, which she was not doing despite the fact that the music is obviously loud inside. He says he will speak to the ladies at the door and the comes back saying they will refund the cover. This whole time the rest of us are calm and were just going to stay since we already went through all this trouble to get here. The manager stops us and proceeds to give my friend a lecture.....Like she's 12, telling her she needs to watch the way she speaks to people. Telling us he's "from the hood" and "[we] might think [he's] 22 or something but [he's] actually 36 and been through so much more than [us]". After 5 solid minutes of him lecturing my friend (she's just taking it quietly the whole time) like she's his daughter or something, i tell him there's no need to lecture, and that we understand miscommunications happen all the time and we're not mad, we just came here to have a good night. Then he starts yelling at me and telling me to watch that attitude and because of me, all my friends aren't getting any free drinks. We promptly leave the club, to which another one of their promoters tries to chase us down and get us to come back. Clearly their business is dying and need us 4 girls come back. Don't waste your time or money here.
Vibes Vibes Vibes
submitted by Jenna for BLND TGER RESTOBAR on April 25, 2016
Best bday celebration ever! Shoutout to the person who sang happy birthday to me !! Thank you!
DONT GO HERE
submitted by Laura for BLND TGER RESTOBAR on March 6, 2016
I would not even rate this place it doesnt deserve a rating. First of all 20$ to get. The bartender is so rude white male with short brown hair he would not give me drinks to begin with because he would take forever to come then walk away and give you your drink 5 min after. This place is discusting i asked for a bottle of water they didnt have any he took a dirty cup out of the black bus boys bin and filled it with water and gave it to me. Watch your cups people if you decide to attend this gross place i would have rather given my money to a homeless person on the street.
Wack
submitted by Kay for BLND TGER RESTOBAR on February 28, 2016
I went to the club on saturday and it was wack. Drinks over priced with rude bartenders who beg for tips before you even get your drink. They gave my friend a lot of attitude!! Trust me your going to wanna slap a bitch lol the bouncers are annoying. Creating a long line by very very slowly letting people in. Music was wack like a lot of old 2006 rap / reggae tunes. Umm someone tell the dj they still make rap and reggae music today! would go back? Hell naw!! Shit, i could have order chicken wings and caught up with the new episodes of scandal.
Bad management/business
submitted by Stephanie for BLND TGER RESTOBAR on February 14, 2016
Worst club i have ever been to. Waste of time and money. First you have to get through egotistical bouncers who feel some sense of power for about 2 hours when deciding to let people in. Then you get in and see there was no point waiting in line as the club is half empty. I feel they like to make people wait in line to create a 'hype' which is stupid. You need to train your bouncers or hire ones who have common sense. Clubs like this don't last very long, there are many clubs downtown toronto..It's easy to just go to another one hence you lose customers as competition is high. The club makes you lose your hype even before you enter. No ratings for this club, wouldn't recommend it to anyone, and i would never be back here.
The worst, stupid club - not logical
submitted by Kim for BLND TGER RESTOBAR on February 14, 2016
I went to blnd tiger this saturday - worst line up experience ever. The fact that they literally let everyone on guess list (sausage fest) go ahead of the females anger me. The coldest day this week and you let 20+ males get in and not a single girl? Who the hell want to be in a club full of penises? Lack of service and marketing. Wouldn't you want females in the club? I waiting in the line for 30 minutes in -29 degrees while 2.5 metres away. If only every would gather and sue blnd tiger for making us freeze to death in the cold. I left (due to the great pain i had to endure of the cold and wait) and went home. If i stayed longer, guaranteed i would of past out and sued blnd tiger. I wish that had happened. Extremely disappointed. The bouncers were awful. Would not come back again anymore. Fucking whack.
Intrigued.
submitted by Siera for BLND TGER RESTOBAR on December 17, 2015
I came here for the first time last thursday, with a friend. We got there around 10, and there was zero line. The bouncer was very nice, chatted with us while we waited for them to finish opening. They seemed a little disorganized with the guestlist and with coat check. Coat check wasn't open when we arrived, so the manager (i assume) asked us to hold onto our coats till they got it sorted out, which we didn't mind. We didn't wind up having to pay for coat check, because of the rocky start. Was a pretty empty, slow night till about 12:30, that's when more people started to show up. The crowd is a mix of people from early to late twenties. I liked the idea of the pool table and arcade games, they were mostly untouched throughout the night, so i played some pinball while we waited for things to pick up. Music was good throughout the night, the dance floor isn't very big though. Drinks weren't cheap, but they weren't overly pricey either. This place has a nice, chill vibe. Lots of seating, and interesting decor fitting in with the "prohibition" theme. I will definitely come back to give this place another chance, on a weekend though when it would probably be busier.
Mua
submitted by Emi for BLND TGER RESTOBAR on December 12, 2015
Awful. Apparently you can't keep your coat on unless your the owners friend. Punk white guy working security in the bottom is the biggest asshole ever. Horrible club won't be going back haha
Not impressed
submitted by Jinny for BLND TGER RESTOBAR on November 5, 2015
Terrible experience.. The games were a long wait because the same people would just hog them and play it over and over again. Decided to try the dance floor but it was way too small.
Ms
submitted by Margot for BLND TGER RESTOBAR on November 1, 2015
I went for halloween last night and it was amazing! I was surprised to actually enjoy a club. I'm 25 and had some worries the crowd would be young and scattered, especially because it's on college st. But i was pleasantly surprised. It was a mix of people. A good mix. The dancing area near the dj is a bit tight jut that's not a problem because you have a lot of other areas to dance. There is a very fun feeling. The bouncers and staff were polite and well mannered. They were joking and sweet. No pretense.

The music is great if you like hip hop, old school r&b, trap, reggae, etc. It's not for you if you're looking for edm i believe. I loved the music. There were 0 moments when i didn't feel like dancing. It was amazingly easy to loosen up. The dj kept songs on just long enough to get a taste before smoothly transitioning. It was a great time.

If i have a problem at all with this place, it's the lack of air conditioning! People began to smell rank around 1am. But i guess that's life.

Will definitely come again!
Great vibe, good music
submitted by Wheeliemedi for BLND TGER RESTOBAR on August 30, 2015
I had a good time; the music was great, pleasant crowd, which made it so much more comfortable to enjoy myself with friends .
AMAZING
submitted by 4me2knw for BLND TGER RESTOBAR on August 23, 2015
Had the best time ever. Dj starting from scratch played this weekend and russell peters was there spinning too. The music was so good and the crowd was even better! Loved the drinks partied till we had to leave... This is my new favourite spot! Thanks blnd tger.
GREAT NIGHT
submitted by Kenny for BLND TGER RESTOBAR on April 30, 2015
Chanced upon this new venue on college street. ambience was great, music selection was amazing & i love the concept of a dance floor & arcade in the same venue. will definitely be coming again.
UPSET BIRTHDAY GIRL
submitted by Helen for BLND TGER RESTOBAR on April 27, 2015
Very disorganized club, major screw up.
I had booked a booth and bottle service for my birthday 3 weeks in advance for the date of saturday april 25th, 2015. After a call and email to set it up, i never got any confirmation or reply back so i decided to call again to confirm it myself. Promoter said it's all set, confirmed the date, the bottles and my name.

Finally on my birthday night..About 35 of me and my friends and another group of people are outside blnd tger at 10pm-10:45pm waiting in the cold. After numerous people calling them to see wtf is going on, my boyfriend finally got through to the guy saying they're closed for the night because they didn't have enough people to fill out the club. He denied ever having a booth/bottle reservation for me for that night... Of course i was soo furious because i got a group of friends ready to dance and drink, waiting outside with nowhere to go!! Thank god for the midtown across the street, the bouncers were the nicest guys i've ever met and totally took care of my friends and i for my birthday.
HORRIBLE DO NOT GO
submitted by Lyana for BLND TGER RESTOBAR on April 26, 2015
My friend booked a booth & had asked for bottle service for her birthday on a saturday night. She had confirmed with blnd tger 3 times. We got to the club at 10pm and no one was there; doors were locked, the phone went straight to voicemail and the receptionist kept hanging up when we tried to buzz the building. We finally got through and they said that since there were not enough people for the night they decided to close and to basically deal with it. Rude. No audacity to call us back to tell us at all. We had 40 people standing outside and a very upset birthday girl.
Had A Good Time
submitted by Randy for BLND TGER RESTOBAR on March 31, 2015
I went to this new club last weekend and had a blast, totally different type of nightclub. we played video games and had bottles which is awesome, while starting from scratch played what he does best, would definitely go back sooner than later if choosing which nightclub to hit.
Load More Reviews