This Venue is now Closed
---
Club V Nightclub Info
Make the choice of Yorkville's Club V for your hotspot destination. Impeccable design, quality clientele and indulgent service merge amidst Toronto's most prestigious locales. This versatile setting gracefully commands all occasions - intimate gatherings or big splashy celebrations! Join us for the night and create memories never to be forgotten. Inspired by the clubs counterparts in New York, ...
Hours
Friday & Saturday (10pm-3am)
Dress Code
Stylish (no baggy jeans, athletic shoes, timberlands and sportswear)
Music
Top 40, Hip Hop, R&B, Reggae
Layout
6,000 sq ft, 800 person capacity, 1 room + patio
---
Club V Nightclub Events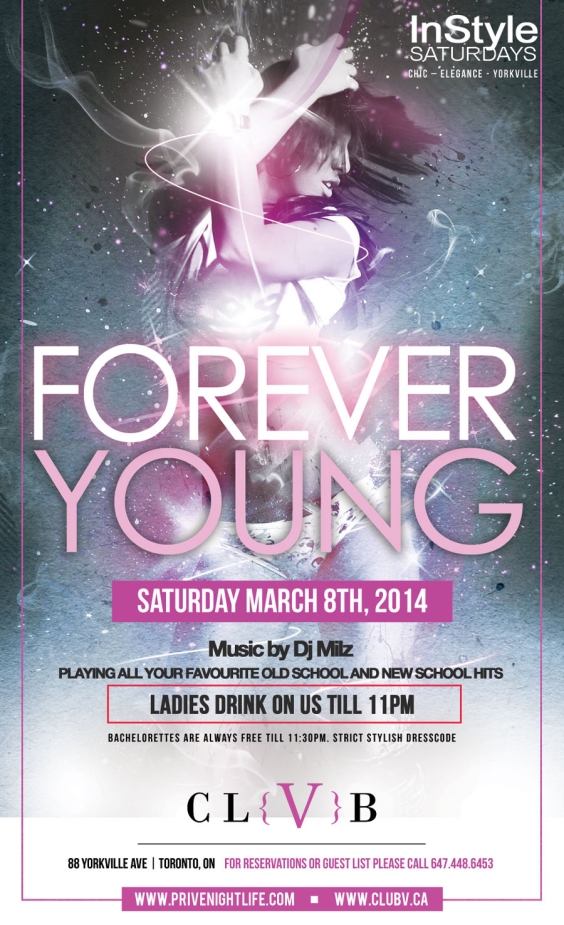 Saturdays @ Club V Nightclub
Club V Nightclub Reviews
re-grandopening
submitted by mat for Club V Nightclub on March 20, 2014
Due to a fire couple months back they have been.Shut down for construction, they will be reopening very soon within a month or so.
Waste
submitted by Jess for Club V Nightclub on March 16, 2014
I emailed yesterday about being on the guestlist with a couple of my friends, and there was no problem with putting us on the list. We showed up at around 10:30 (three girls) to 88 yorkville ave, with the club v entrance, but it seemed to be closed. We called several time to the number, with it going straight to voicemail, and even calling the bottle service number with no luck. Completely wasted our time, so we went elsewhere.
Saturday Night vs other nights at Club V
submitted by andrew for Club V Nightclub on January 7, 2014
Hello all, just reading the comments below and just wanted to let you know that those negative comments are in regards to the friday nights and not saturday. The saturday night is completely different, so come and try it out!
Amazing Birthday !
submitted by Anastasia for Club V Nightclub on November 28, 2013
Went to club v for my 20th birthday , had the best time ever! We got a booth and when we arrived it was packed with people who weren't with my party and my server quickly moved them out of my booth, she was very attentive, music was great had a really great time the apps could have been better though.
OLD, RUDE, AND RACIST.
submitted by Ana for Club V Nightclub on November 12, 2013
I was at the below mentioned birthday party and wanted to give my two cents as well. The club owner was extremely difficult to the point that it took 30 minutes to arrange the bottles/booth that were already arranged for in advance (clearly very unprofessional to not have a decent level of organization for your event).

The crowd was mostly in their mid twenties and for the most part, russian. This probably ties in to the fact that the dj was a rude asshole who would only entertain the conversations of those who were russian like him. The first time we walked up to him, he put out his hand to our faces to ignore us. Minutes later i saw a group of russian girls approach him and he was more than happy to listen to their requests. To the owner: i would recommend firing your dj or if you want to target a certain demographic, then please advertise this in your flyers so other ethnic groups don't have to feel like shit in your club.

In addition, the details of the event said that it was 90s night with some top 40. I think we heard maybe 2 songs from the 90s, one song from top 40, and the rest was techno and music that was in some other language.

It's sad because this club used to be so fun, with amazing music... But perhaps management changed and now it's absolute garbage. Don't waste your money going here. Trust me.

I will not be returning to this hellhole in this lifetime.
Load More Reviews