EFS
647 KING STREET WEST, Toronto, ON
---
EFS Info
EFS is a new nightspot in the King West area that caters to trendy young professionals. Inspired by a piece of art, EFS stands for "Everything's For Sale". Complete with a large rooftop patio, EFS is the perfect summer nightspot to chill out and have drinks with friends. Private Cabanas line the perimeter of the rooftop and each come equipped with hookahs. If you're looking for a great summertime ...
Crowd
Mature, Young Professionals
Area
Toronto, Entertainment District, King West
Dress Code
Stylish (no baggy jeans, athletic shoes, timberlands and sportswear)
---
EFS Events
Sun, Mon, Tue, Wed, Thu, Fri, Sat @ EFS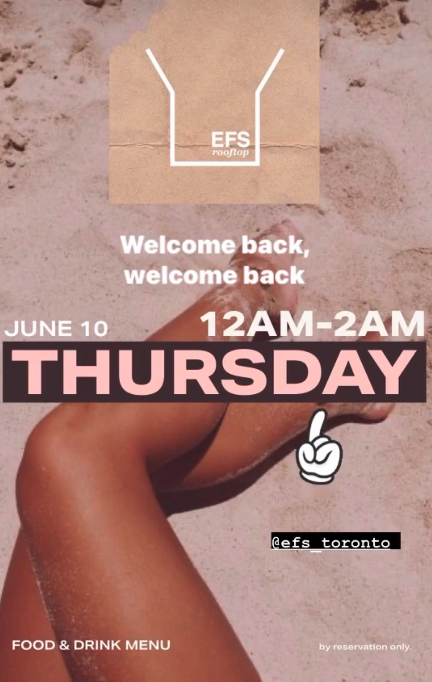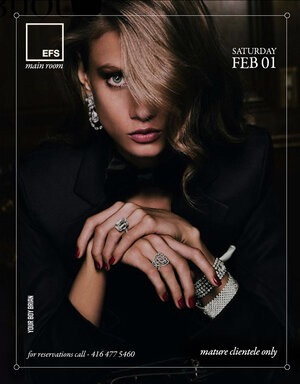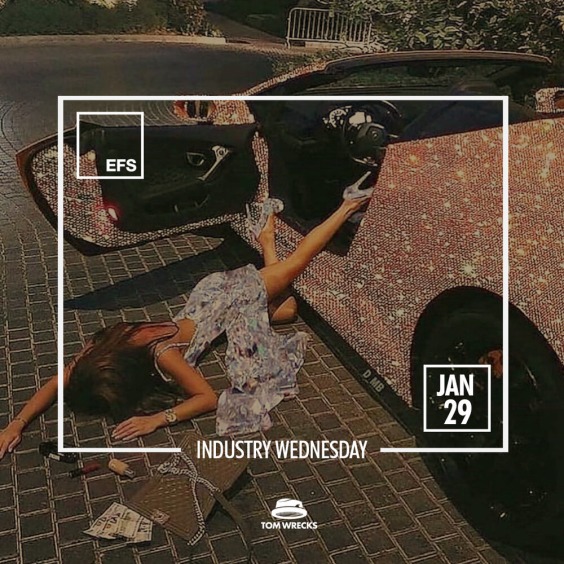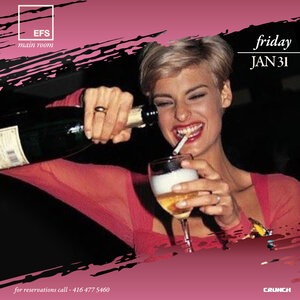 EFS Reviews
Scam
submitted by Aj for EFS on May 26, 2022
Club crawlers is a scam.

They cancel their events after you pay, and send emails months apart saying they will process the refund. My $150 for the new years eve event is still not processed and it is now nearly june 2022. They do not reply at all either
Ms
submitted by Bibi Samayoa for EFS on April 24, 2022
By far the worst, stay away!!!!!!
This weekend i was brutally and physically assaulted by the security/bouncer there. I had no prior interaction with this person, they just began attacking me out of no where quite literally. Pursuing legal action obviously, but i needed to get the word out to prevent any further violence for future innocent club-goers. I've always heard terrible things about this place, such as hidden cameras in the bathrooms?? But this was like nothing i have ever experienced before. Not to mention, before the assault, different security there tried offering us drugs… all in all, super unsafe and scary environment!
Guest
submitted by Sarah for EFS on April 23, 2022
I had an appalling experience at efs recently when i attended with 3 of my friends, all of us girls. After being searched, we walked to the front desk so that we could give the employee our tickets for entry. The first red flag was that we were offered ecstasy by said employee at the front desk, which we declined. After this we walked towards the actual club room itself and as i walked behind my friend i saw one of the security guards grabs my friend by the hair and yank her hard! I was so shocked i immediately asked her "why did u just grab my friends hair?" and she had the audacity to say "i didn't". Only after i repeated what i saw did she she admit she had done it. There was a moment of debate when my friends and i were trying to decide whether to stay at the club or to leave considering the violent behaviour of the security guard. We decided it was best to leave and started walking towards the exit. At this point the security guard grabs my friend again and starts assaulting her again to the point that the other security guards had to pull her off of my friend and continue to restrain her so that she wouldn't continue to assault my friend. I asked the security guard what her name was so that this situation could be handled appropriately and she started trying to get at me at that point, yelling "oh you wanna know my name?!?" while her fellow security guards we're forced to continue restraining her so that she wouldn't assault us. The whole situation was disgusting and just goes to show why efs has a reputation for being the worst club in toronto….
RACIST
submitted by Ranjeet Randawa for EFS on November 21, 2020
Security is corrupt, they ask for bribes and they discriminate based on race. If your're white it's ok, but if your any other race they give an excuse why you can't attend. Not only did i experience this but many others have as well and nothing is being done about it
Bad client service
submitted by Sam for EFS on June 15, 2019
I am the founder of toronto social network we have over 10,000 members. I am absolutely appalled at how we were treated last night.

We were on guest list. Host treats me like something she stepped in. Then said manager mike introduced himself to me when i went to shake his hand he said do not touch me.

I have no idea why efs staff were so hostile towards my group saturday night. However i can tell you i do not think highly of this establishment and if they expect me to bring my group here again: well it is not very likely.

If i am bringing business to an establishment i expect them to treat me with some respect not like something they just stepped in.

There behavior tonight is unacceptable and really disgusts me...
Not Chill At All
submitted by Anonymous for EFS on December 31, 2018
Right from the beginning my friends and i did not feel welcome at all. The service employees were all incredibly disrespectful and snobby. The club is also very small, which is fine but they overpack it. For a place that's intended to feel classy and relaxed, it just felt extremely suffocating and grimy. The music was fun for the most part but there was very little room to dance. Towards the end of the night i took a seat in an unoccupied part of the central booth. Eventually one of the bottle service girls came up to me with a bottle of vodka and asked if she could pour some in my mouth but when i declined she proceeded to tell me in a very rude and demanding way that if i didn't drink the vodka i wouldn't be allowed to continue sitting. I would have understood if she kindly asked me to move at the beginning but the fact that she wouldn't let me sit there because i didn't want to drink was completely ridiculous and belittling. At that point my friends and i were done and decided to leave, which unfortunately was the best part of the entire night...I will not be going back here again.
Do you have a good review????????
submitted by T for EFS on December 29, 2017
Re-evaluation of your business tactic is clearly in order.... You fail.
Bouncer pieces of shit
submitted by No for EFS on December 29, 2017
This has got to be the biggest piece of shit establishment i have ever been in.... Like in my entire life. The staff was ignorant and disrespectful from the start ...I won't get into detail. You lost my respect when you felt it necessary to use 4 security to remove 1 guy 5 foot 3 when the mother fuckin bouncer was john cena... Clearly your bouncers balls are smaller than peas in a pod if the results resorted to the actions that transpired tonight ..Ignorant cunts... At a is a fuuuÙuuuucking joke! Your money is wasted.... Cunt cunt cunt cunt cunt... Minus the bottle service angel.... Clearly the only good staff you have on deck... May you all rot in hell , you filthy animals l....
It's questionable
submitted by Daniella for EFS on September 29, 2017
They say "if you arrive before 11:00pm it's free" not at all. We all had to pay $20.00 cover.
This is very very small place. You will hear trap music & some pop... Mostly r&b though. Dress code: all girls are in typical heels, dresses, skirts tops. Guys are usually in formal casual, never wearing running shoes or you can't get in.
Honestly, everyone person i know says they hate this club and it's not good.
I'm not the biggest fan. I think it was overrated. And the bouncers are just, well trying to seek some girls to go home with that night!
bad service
submitted by jos for EFS on June 4, 2017
What a joke. I couldn't even get in. My friends signed up for guest list which was supposed to get us in for free before 11pm. We arrive there at 10:45, get in and find out that we needed some special tickets to be let in without having to pay, so we go outside to claim for the tickets (which should've been handed before getting in) and the bouncer got mad because we were giving him "attitude" and didn't let us in because apparently he supposed we were on drugs or something. First of all, it was so unprofessional to let us in with no tickets and then stop us from going in because we complained about it. I only had one drink before leaving my house i was not drunk and the security guard was being rude. Worst experience ever.
Horrible Racist Staff
submitted by M Lalli for EFS on February 12, 2017
Extremely horrible. I'm a nurse celebrating her 25th birthday, i don't like to drink and of course only had two drinks. The person who i booked bottle service with told me it was 3 bottle minimum. When we got there they tried to tell us it was four bottle minimum..Even though he booths around us had three bottles max. And yes we are brown. This club is extremely racist. From the moment we got there they were giving us issues. They did not want to let us in despite the fact that we had bottles, and made us wait and were very rude about it. Towards the end of the night when i was trying to pay my bill they were trying to kick my boyfriend and his friend out. I told them we were leaving i was just trying to pay the bill and the bouncers through me aside and kept dragging them out. Once again i told them they have my visa and id i would like to leave so i need to pay the bill to get those back. As soon as i paid the $1700 bill, the bouncers started pushing me out. I asked to speak to a manager and they refused. I told them legally they have no right to touch me. Then they tried to get the female bouncer to push me out.. Again no legal right to physically assault me like that. And of course the loser bouncer calling me a ratchet bitch. Fyi to the bouncer i'm a nurse and he's a bouncer, making a quarter of what i make an hour. Sucks for you that you work a shitty job and have no life, but that doesn't make others ratchet, just him a low life. Also he broke my choker necklace. And it does not even deserve the one star rating,
worst club ever
submitted by Christina for EFS on April 30, 2016
Terrible venue, awful racist staff, disrespectful bouncers that beat on people and insult guests that are bringing thousands of dollars to the worst possible venue. What an awful place after i seen how they treat people i really hope they get shut down and sued. I work for the news and will definately uncover the story about this place. This is supposed to be a high class club with strict dress code that they only seem to enforce on some and let others get away witb anything. Other than a few nice bottle service girls the people that run this place are real jerks and have no respect and instigate fights and problems.
Law student
submitted by Kb for EFS on April 5, 2016
Dropped over a 1000 on bottles, night was going ok untill some wasted guy shouldered me like i was at a beer league hockey game. Buddy then had the audacity to ask why i was standing in his way. Didn't even get to chirp the guy before he speared me onto the ground. Bouncers piled on top of me and broke my jaw, elbow, bruised my neck, hip and kidney area. They knew where to hit me. Now my mouth is wired shut and i can't work for absolutely no reason. The place was over capacity, serving bottles at 3 am to drunk people, bartenders kept offering me drugs, not to mention the bouncers failed to protest me from an aggressive drunk. Think twice before going here it's unsafe and the buisness is negligent.
Good time
submitted by Steve for EFS on March 11, 2016
Great place to be! Went for a friends birthday, music was great! Girls even better. I would highly recommend this club
DO NOT VISIT THIS CLUB
submitted by Arlene for EFS on March 10, 2016
if you enjoy having shards of glass falling into your flats as you crunch your way across the dance floor and your feet are being sliced open this is the place for you. Expect an hour long wait to get your coat back from coat check being pushed by hundreds of people in a tiny corridor only to find out that your coat has been given away to strangers. Don't worry, the coat check staff will be understanding and tell you "oops" before ignoring you and grabbing for the next ticket. Your night will end with a nice thirty minute wait in -15 degree weather as you wait for an available uber or taxi to show up as you stand outside with no coat on. And management? Incredibly helpful in letting you know that even though they charge an additional fee for coat check on top of cover charges it is entirely your fault that your coat was given away because you trusted to leave your coat with them. Excellent fucking sound? Expensive and fucking sub par.
Young Professional
submitted by Adriana for EFS on February 13, 2016
If i could leave no stars i would--efs doesn't even deserve one.

Hands down the worst experience i've ever had at a bar in toronto. not only did we have a table to ensure entry but were also denied entry because they were at capacity at 1 am. i've been working in the industry for years--so i get it. and i would have gladly went elsewhere no questions asked especially on all star weekend. but don't tell me you're only letting celebs in and then let in every other girl who's going to flash her tits at you or all of your buddies who toss you a 20 and a high five.

Second to that, by law a security guard must display his badge number and provide it when asked. this can actually result in a personal fine to the individual and a larger fine to the bar in question if they're not willing to show that their security staff is properly licensed--and you can bet your last dollar that i'll be making it known how terrible the staff was and how i badly i was treated.

The security staff got in my face and were invading my personal space when i inquired about this "no entry because we're at capacity" thing. (keep in mind i'm 5,8 and about 120 pounds--there's no need to use that kind of behaviour to intimidate me or to show your authority). The "head of security" who wouldn't give me his name or badge number told me to leave and that there was no way me or my party was getting in because of my behaviour--simply because i wanted to know whether or not they were letting people in or if we should go elsewhere--it's pretty legitimate to ask for an approximate wait time when it's snowing/freezing and you don't want to waste your last hour in a line up. also keep in mind that i don't drink so i was dead sober as this interaction was happening--which adds to my fury.

I'm too old to give a shit about this petty stuff and normally i wouldn't waste my time reviewing a place...But this experience was hands down the worst and i want people to know how terrible this establishment actually is and how rude and offensive the doormen were.

Cheers to the worst bar in toronto.
They might as well have a whites only sign
submitted by Dawn for EFS on February 7, 2016
Are you a person of colour and want to feel racially discriminated against? Well efs is for you.
A group of us, all being people of colour, were only going here to celebrate a friends birthday. We were on guest list, but upon arrival they can't find our name, they wont even look us in the eyes. The birthday friend comes out to help sort things out, bring the confirmation email and everything, the bouncer just says a flat out no. All the while they are letting in groups of other people who are not on the guest list in, even letting some in without paying for cover. While were standing there in shock the guest line girl decides to tell us clubs that we could probably get into. As we ready to leave the line, the bouncer that says no tells us we have to leave or they will remove us from the line.
Their guest list only applies if you look a certain way or if you pay/bribe your way in. Doesn't even deserve 1 star.
Racist
submitted by Sina for EFS on February 4, 2016
I've never felt so discriminated in my life until i approached the doors of efs. The bouncer was nice in greeding us but there was a girl at the door that came off very rude she was wearing a black mackage jacket and had dark hair. When approaching her to get in she said that on fridays and saturdays it is guest list only. This is false and she was very rude. I have never in my life been turned down from a club. My friends and i are beautiful girls. She only turned us down because we are black. i'm very disappointed that people still have this attitude in 2016. That's not only bad for business but is bad publicity. I think sometimes people forget that minorities matter and if enough people notice how biased this club then they are in trouble. I'm surprised this hasn't made the news yet but i'm sure it will anytime soon. Efs should be careful with who they are talking too....
Tiny club, Racist security and Lying door girl
submitted by Josh for EFS on February 2, 2016
Club sucks. Filled with dudes who are too old to be clubbing and average chicks who fell onto a tray of paint and decided they looked fancy enough to attend a so called "upscale" club (lol) music selection horrible, drinks overpriced, weirdest booth layout and it's simply tiny. Oh and doesn't matter if you call, use email, website form, clubcrawlers or even all of the above, twice...Unless you're white guy or a chick with your tits out your name won't be on guestlist according to steven tyler looking guestlist girl. Of course you can always pay the "head" bouncer atleast $20 per person. If you go here i recommend you blatantly ask the guestlist to be checked before you get in line,do not waste your time waiting and ask that liar of a door girl to show you the list (saw her tell a group their name wasn't on guestlist even though i could see it had showed up on her little phone app from where i was standing). If it wasn't for the birthday party i was attending i'd have turned around and walked away. Trust me you're not missing much by not going here. The racism card doesn't apply if you're buying their overpriced bottles, naturally.
This is THE MOST RACIST CLUB IN TORONTO!
submitted by Frank for EFS on February 1, 2016
And i'm not kidding. I am a caucasian male who went to efs for a (indian) girl friend's birthday. What happened at the door was simply revolting. After waiting in the "guest list" line for over 30 minutes while many other groups of only white people got in in front of us, someone from the night club staff came out and told us our name was not on the guest list even though we had confirmation. Blatantly racist security and staff. Do not go here ever!
terrible
submitted by Racist /Terribly run club for EFS on January 23, 2016
Me and my gf came yesterday at midnight we gave the name it was reserved under for guest list that my friend booked as he wasn't there yet. They said it didn't exist. I called my friend who was on his way to confirm name he said he confirmed with them twice. the girl still say doesn't exist. They use a phone app to confirm clearly wasn't efficient. i have feeling they are racist as i saw other white girls go in who weren't on guest list. Terrible club don't support racist/inefficient clubs
Worst Club in Toronto
submitted by Alyssa for EFS on December 27, 2015
This club doesn't even deserve one star, the owner of the club is racist. My friends and i were well dressed to enter and the bouncer was about to let us in, he already checked our ids and the owner stops him and tells him he doesn't want to let us in because "we weren't on the guestlist" meanwhile they were letting other people in who weren't on the guestlist in. The bouncer was confused as to why we couldn't enter, he also mentioned we were "good looking people" which i don't think should even matter. The bouncer didn't even know what to tell us he said he didn't know why the owner didn't want to let us in. This club is very unwelcoming and i will never recommend anyone to waste their money on a club with a piece of shit owner.
Miss
submitted by JAYJAY for EFS on November 23, 2015
Comments below about racism are correct. I wasn't even aware until i experience this myself. My sister actually works here and had put my group of friends onto the guestlist. We thought this would be perfect since she has connections. She even showed us the screenshot. We showed up on the friday at 1045pm and were told that we were not on the guest list. My sister arrived shortly afterwards and when i spoke to her, she told me that the club didn't want us in because we were a bunch of brown people. Wow. What century are we in?! I honestly couldn't believe this. We were all obviously extremely offended and left. Good luck with your business efs! And i'm extremely embarrassed to have my sister work for you guys!
0/5
submitted by Anonymous for EFS on November 22, 2015
Rating deserved a zero out of five. I can highly attest to the previous comment which stated that the staff were racist and rude. I am extremely appalled that in the 21st century i had to witness such racial discrimination directed at one of my friends. Make sure if you want to enter this club you're not a visible minority, you're on the guest list or have bottle service and arrive extremely early (at least 10-1030pm). Ps they only let girls in after like 11 so good luck if you're not white or a girl!!
Worst Club, Racist, Writing own reviews
submitted by Mike for EFS on October 21, 2015
This place is just horrible, the staff are racist and rude. To hide all their shortfalls and shady business tactics, they've gone as far as writing their own review to try and hide the real ones. This place is the worst nightclub in toronto in terms of service, price, and racism. Go anywhere but here!
n/a
submitted by Jessica for EFS on August 24, 2015
Come here if you want to be treated like a farm animal.
Regardless of the location and music its not worth getting shoved and shepherded like cattle by the terribly trained staff.

Worst place i've ever been to. I used to work in the club industry and i've never ever been treating like such garbage my whole life.

I got a booth on the patio which already is a minimum of $1000 spending. i brought over 50 people to the club only to have them give me hard time about everything. From having the free entries used inappropriately which i had paid for with my $1000 (not including the ridiculous 18% gratuity). the total of 4 bouncers i've spoken to only 1 was decent, and by decent i mean didn't yell at me. some bouncer called my friend a c*nt which is unacceptable. my party and i was yelled at, shooed around and shoved at by staff for the entire first 2 hours i was there trying to get people in that were part of bottle service. no one was there to handle the my situation and concerns. all the problems that arose in terms of entry and headcount were all discussed with whomever i booked the table with.

Essentially they conned me to getting a booth by promising all these things that no one would ensure when i arrived.

Drinks are expensive, which is expected for a place of which is 21+.
Music was decent but the dance floor was a zoo and no one could move.
The place itself as grimy. My shoes were stuck to the ground and sounded like velcro with every step i took.

Save your sanity but going elsewhere, there's a ton of great places in toronto. The pretentious jerks here are just not worth your evening.
EFS Guaranteed Reservations / Guest List
submitted by Michael - KWV for EFS on July 29, 2015
Looking to have a night out at the efs patio this summer? Look no further, we will arrange any bottle service requests and guest list. Leave it to us at kwv.

Email all inquiries to - kingwestvip@gmail.Com
Racist Club
submitted by Raj for EFS on June 18, 2015
I've been trying to book reservation at very popular nightclub called efs in toronto for my 27th birthday. When i first called on june 17th to book my reservation. The receptionist i spoke to named alexa advised me reservations are still available for the patio and outdoor, when i proceed to book my reservation and told the receptionist my name was raj she changed her story and advised me that there wasn't any reservation available due to a corporate event but she did not know how many tables would be available for that day but told me to call back if they did not get into contact with me on the following day on the 18th of june. 6 pm on the 18th of june i called once again to figure out if i was able to book my reservation, when i called in again to find out updates, alexa was hesitant and said nothing is available had no recollection of the situation put me on hold. After returning to call said she would put me on a waiting list. I felt something fishes was going on so i asked my girlfriend to call in and say her name was christina and see if they would book reservation for us on the 27th of june. When she called alexa whom i was speaking to, picked up the phone and my girlfriend asked to book reservation. Alexa said they had full availability, ask her for her name she supplied her with christina and was able to book the reservations. When i called back to confront alexa and i asked why she was discriminating against me & if it had to do with my name and ethnicity she apologized and said she didn't know why she did that.
EFS - VIP Bottle Service and Guest List
submitted by The Allure Group for EFS on June 15, 2015
If you are looking to book bottle service and/or guest-list, let us take care of you!

Send an email to habib@alluregroupto.Com with all inquires.

Efs thursdays and friday only*
Waste of time:( Don't go!
submitted by Nat for EFS on May 10, 2015
Probably one of the worst clubbing experiences!
If u like rnb and be squeezed in a tiny place with a ton of ppl, u ll have fun. So, it said that they ll play top 40, rnb, and edm, but the "dj" played only rnb all night and maybe 1 or 2 top 40, but even then, he changed the songs every 10 seconds, there were two fights that night and the bouncers were not even there.
It was such a disappointment, me and my friends were so excited going there, but our mood dropped so quickly and we left just sad:/ definitely not going back!
Ms
submitted by Mandi for EFS on April 19, 2015
I went to efs last night and the club was fun , music was decent and all in all we were having a good time . Then when we went to leave everything changed . I saw a group of guys outside getting beaten up by the boucers to a point that is beyond absurd . The way the bouncers spoke and acted was the most unprofessional display i have ever seen in any club and i have been to clubs all around the world . They acted like thugs . I would expect behaviour like that from 20 something heavily intoxicated men not so called professionals . I saw one bouncer choking a guy. Another chasing a male who was trying to take a picture and a lot of blood . Needless to say thos was my first and last time i will ever go to efs . If thats the staff they hire then its not a place i ever want to be
mr
submitted by davie for EFS on March 15, 2015
This place is garbage. Changing the song every 20 seconds is the worst. No one likes coming here.
#bye
submitted by Cassidy for EFS on November 23, 2014
This club doesn't even deserve stars. They were extremely unprofessional, not letting anyone in, not answering questions and still asked for 20 dollars as cover. I would not recommend this club to anyone unless you want to be cold and super annoyed.
Crowd control
submitted by Niall stocking for EFS on November 22, 2014
I enjoyed a great bar bottle service. However, i was removed from the bar by non security staff via an altercation that efs had no control of. To me this means that efs cannot control there environment making it an unsafe nightclub. This happened on november 21 at approximately 1am
Bottle Service & Guest List
submitted by Matt for EFS on November 12, 2014
For bottle service reservations & guest list contact me @ 647.838.8499
Mr
submitted by Tony Fiorini for EFS on August 16, 2014
Efs has a very nice ambience and is a comfortable physical venue. It is indeed unfortunate that my grand daughter and her date, leslie, were treated in an insulting manner by a tall, young, dark-hared, ignorant, sparkler bearing female who appeared to be some manner of a hostess. They were seated at a nice table for an hour or so. After ordering their drinks from the bartender, les purchased a bottle of champaign from her. He returned to our table with the champaign in a bucket and was ordered to leave the table by the afore-mentioned hostess. She said, "this is a $500 table and if you want to sit at this table you must buy another bottle of champaign from me or you can leave." anna and les are not from toronto and found this treatment to be unfriendly, rude and particularly unwelcoming to visitors.
Bottle Service
submitted by Matt for EFS on July 18, 2014
For bottle service reservations contact me @ 647.838.8499
Mar
submitted by Sasha for EFS on January 7, 2014
New bartender sara "og" offered to sell me dope at efs at the nye party during a smoke break. It was awkward. She laughed that no one at work knew how much she was actually drinking while on the job and how "wavy" she actually was cause the dope is so good. Other then that had a great time and love this place. Girls are super hot.
Not Worth it
submitted by Dmitry for EFS on October 5, 2013
Went here on a friday night and can't say i was impressed. While outside we told the door staff that we are will get at least one bottle and they brought us all in (7 guys) with no line up and gave us a booth. We were served our bottle and about 10 minutes later we were asked the vacate the booth as another larger group is buying two bottles. We ended up taking our bottle and put it on the bar and drank standing up.

The layout of the club is not natural for social interaction. It's all booths. There is no dance floor. In other words unless you are coming with a large group of people there is no place for you. As a bunch of guys (some single) we wanted to interact with single girls however, there is no where to go to talk to them because it's all booths.

Later in the night i went to the bar to ask for one of the simplest drinks to make from the bar - a tom colins (gin, lime juice, soda) and she had no idea how to make it and just gave me a gin and soda. It's nice to have hot blonde bartenders with fake boobs but it would be great if they knew how to make some drinks too.

They claim to have a great rooftop patio. We were made to stand in line for 15 minutes just to get up there and once there about 90% of the rooftop is closed off with ropes. Why make people wait lie cattle downstairs if there is so much space up on the patio??

Overall, there are way better places on king west, don't waste your time here.
Load More Reviews