Sugar Daddy's
5165 Dixie Rd., Mississauga, ON
---
Sugar Daddy's Nightclub Info
Since 2003 Sugar Daddy's Nightclub has been Mississauga's hot spot for great drinks, music, and atmosphere. Sugar Daddy's Nightclub features 2 levels, 2 sounds, 2 DJ's, 2 dancefloors, 10 bartenders, 20,000 watts of sound, megawatt Laser, video screens, bottle service and we have Mississauga's best patio!
Hours
Thurdsay - Saturday (10pm-3am)
Dress Code
Casual (no sportswear, jerseys and athletic shoes)
Music
Top 40, Hip Hop, R&B
---
Sugar Daddy's Nightclub Events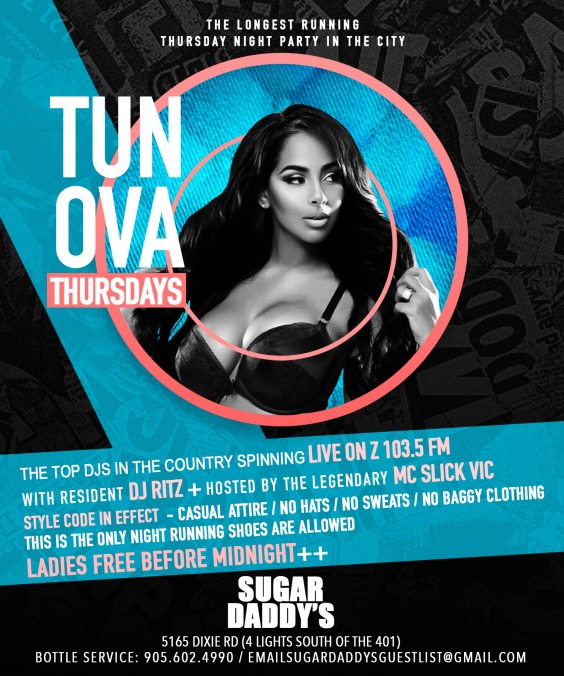 Thursdays @ Sugar Daddy's Nightclub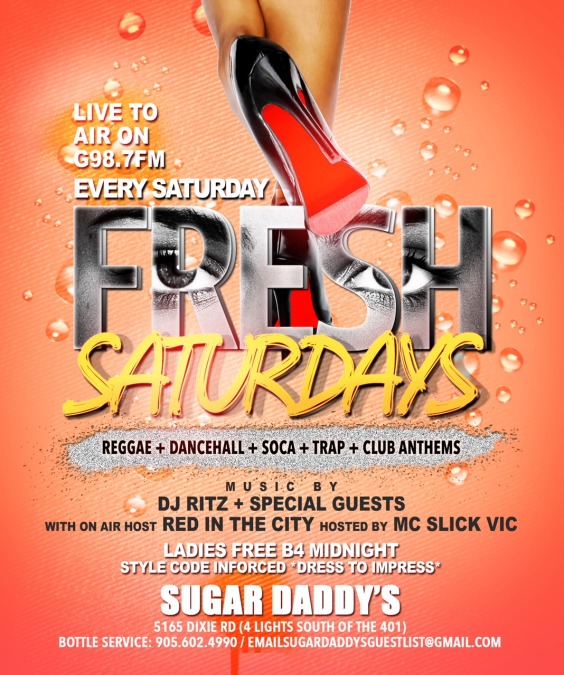 Saturdays @ Sugar Daddy's Nightclub
Sugar Daddy's Nightclub Reviews
Mr
submitted by Stuart for Sugar Daddy's Nightclub on December 13, 2018
This my home am coming with family friends tomorrow night we need a big hug for my family friends tomorrow please
better music
submitted by smitty for Sugar Daddy's Nightclub on November 9, 2016
If your going for the music the djs are trash play the same music all night and the club to dark
Hate sugar daddy's
submitted by Stephanie Nadeau for Sugar Daddy's Nightclub on April 3, 2016
The bouncer was rude pushed me out of the war more then three times and i am a girl. It was very cold out. I was wearing a crop top and he was very rude couldn't even tell me why i wasn't allowed in. Wouldn't let my friend in with black shoes and let another guy with the same shoe in but was a black male instead of white. This was on my 23rd birthday and made me cry because he pushed me. I would not recommend this club i used to choose this before downtown toronto but not no more. Screw this stupid club.
Turn on the lights***
submitted by Tara for Sugar Daddy's Nightclub on February 15, 2016
If i pay an entrance fee to entry the club, i expect it to run until the closing time. Without having the feeling they want us to leave. At 2:30am the club starts turning on the lights. They need to stop doing that, especially after 1am you need to pay $20 opposed to $10. So at least give me the 2 hrs of fun, without feeling the pressure of lights coming on and off giving me the impression that i need to start wrapping thints up from 2:30am. Don't think i'll go back, would rather attend somewhere that won't do that non sense until the earliest 2:50 am.
Do not recommend if you're there for the music
submitted by Nachelle for Sugar Daddy's Nightclub on January 8, 2016
I wouldn't recommend this club to anyone. 1). Dj phatcat is the most worthless dj i've ever heard "play" mixes. He'll be in the dj booth acting like he's working out to play the same mix he's been playing since 2007. There's absolutely no reason why i should be hearing sean paul from circa 2002. I mean, it's not a throw back club it's supposed to be the "newest" in dancehall, r&b and hip hop. I frequent the club because it's really the only place local for me to go to every other saturday night. If it wasn't free, i definitely wouldn't go there to hear dj phatcat act like he's playing a new mix when he is actually playing the same cd he's been playing from 2009. There's absolutely no reason why anyone party-goer should be able to predict what song is coming up next. And myself as well as friends predict it all the time. I would much rather pay 20 bucks to get in to have a new dj play rather than see dj phatcat pretend to dub music he cannot mix. I'm sorry, i'm sure the 5bills he's getting paid every thursday, friday and saturday night can be given to a better dj, someone who knows what their doing. Do you ever see parties with dj phatcat playing? No! That's because he cannot compete with other dj's. With that being said, i wouldn't recommend anyone spend money on a booth just to hear bullshit-ass music being played all night. He is probably the worst dj ever. It's 2016, i'm sure the white guy owner can do a better job plus i'm sure he'll attract a better crowd if he only gets rid of dj phatcat.
Crazy Sugar Mommy
submitted by Dante Steezy for Sugar Daddy's Nightclub on November 3, 2015
There are so many milfs at this club. Omg. I thought there would be more students and ppl in theyre low 20's but they are all thirsty cougars like 40+!!!!!!
Racist Bouncer
submitted by Malyn Keosavanh for Sugar Daddy's Nightclub on November 1, 2015
This club used to be my favorite club in mississauga until last night. Halloween, a night where people dress up and go out to have fun. We came from kitchener and cambridge to come to this club and the bouncer wouldn't let in our indian friend who had supras on. 80% of the men in the club had sneakers on even one of our friends had sneakers on (basketball shoes). But, we were like fine... Asked someone from kitchener to bring him dress shoes and he waited in the car. Later, he waits in line one more time with the proper shoes on this time and the bouncer had the ordasity to say he is too intoxicated to come in the club but, he never got in to have a lick to drink. One girl went and defended him and got kicked out. Another friend went to see if he could offer the bouncer $200 to let them both in and he got kicked out. We're regulars at this club, and even the bouncers inside didn't understand it and wished they could do something to help. I just think the bouncer was racist against indians, he never kicked me out for defending my friend. The funny thing is is that the bouncer is black and black people have been fighting racism for years. People he should be racist against if he had to pick any race should be white people, sorry but its true. I'm never coming back to this club and i don't think anyone else should either, until he's fired.
violent bouncers
submitted by Tila for Sugar Daddy's Nightclub on October 2, 2015
Always go to sugar daddy's.. Never had an issued until today. Was dancing with my girls minding my own business when this girl runs into me as she's falling over i help her by holding her up then her boyfriend puts his hands on me telling me not to touch his girl followed by a bouncer who grabbed my arm almost ripping it off for no reason. Then they kicked me out for helping a poor drunk girl. Next morning i had the bouncers hand mark bruised on my arm. What a joke this place has become.
Bouncers
submitted by Jackie for Sugar Daddy's Nightclub on March 4, 2015
the bouncers are constantly trying to pick up girls especially the big black bouncer who is inside, has a mean face all the time but man he talks to every girl in the club, you tell him no and he still is persistent.
The music is good but the drinks are watered down also.
RUDE
submitted by Bonquiqui for Sugar Daddy's Nightclub on February 12, 2015
All the bouncers want to do is fish for girls. They are dogs, if you have a man this is not the club for you. They are rude and they have no respect, they act as if they are more than just bouncers and they have no consideration. This place is sloppy and i will not recommend this place to anyone. There is entirely to many clubs in the gta to go through that bullshit. They dont respect loyal club goers and they dont deserve our business.

Do yourself a favor.
Find yourself a better club!
older man
submitted by Raymond for Sugar Daddy's Nightclub on January 10, 2015
If you are over 30 years old, this is not the place for you !!! unless, you fishing for young blood.
Mr.
submitted by Johnnyboy for Sugar Daddy's Nightclub on May 27, 2014
The club was okay. Just another nightclub. Plenty of them in the gta. All the same to me. What did stand out to me though is, i came late for vip and the security said i had to re-book. Frustrated, i asked to speak with the manger. She came over. Smoking hot little brunette girl. Long brown hair. She was very nice and offered us half price bottle and got is our vip. Very nice manager.
Disgusted with there service and bouncers
submitted by Crystal for Sugar Daddy's Nightclub on May 18, 2014
So this was my first time going to sugar daddy's with my husband and as soon as we got there they told my husband whom is a rastafarian that he has to take of his wrap anyone who knows rastas cover there hair it's part of there religion. My husband who then ask the bouncers to speak to the owner they said he won't come speak to you, there costumer service sucked then it says there open until 3 am right after last call there ready to kick you out, so then i went in to tell my girlfriends i was leaving they told me if you come in you can't leave i think that's ridiculous. I don't recommend this place to anyone it's small, it stinks (literally) the bouncers are rude i didn't see what all the hype was about this place sucks!!!!
WARNING - very distasteful place!!
submitted by Anita for Sugar Daddy's Nightclub on April 27, 2014
I went there a thursday night with a few girl friends - my only 1 night out since i work a lot! I got to the front of the line where a bouncer decided to hold back my 1 girl friend who was next in line. I was calmly telling the bouncer she's a girl and i don't feel safe leaving her alone in the line. All of a sudden this older white guy with blonde hair just pushed me and my friends out and said we need to leave and then when i hesistated (bc my friend was still in the line by herself). Another big black bouncer came and shoved me out of the entrance section. It all happened so quickly and for no reason. I am a small 100 lbs girl and these were 300 lbs guys. They have no decency and no respect whatsoever. The bouncers are very aggressive and irrational. if you're classy and respectful - dont go here!! Its a trashy place anyway :s
$3 drinks ! Free parking, Amazing club !
submitted by Adilimo Adi for Sugar Daddy's Nightclub on January 6, 2014
Wow, what a nice place ! The place was rammed. The music was great. Dj's that know what they are doing. A fantastic mc. The security were all very professional. The drinks were only $3 ! Now the drinks were not watered down, at all. The booths were really really nice. I come here almost every thurs, friday, saturday, and long weekend sunday's. And the parking is free !
Lady's are free before 12pm, guys pay $10 before 1am.
Not what it used to be, it's awful now.
submitted by Jacqueline for Sugar Daddy's Nightclub on November 30, 2013
I wrote a review years ago about how much i loved this place, well i can honestly say i hate this place now. it used to have a nice crowd and staff with some of the best dj's and mc's in the city. the place was fun place to party with a great music mix. well the nice crowd and staff has moved on. so have the great dj's and mc's. so did the crowd. I don't think there were even 100 people there last night. i tried to enjoy myself but nothing compelled me to spend my night there. The bouncers looked pissed off and so did the bartenders. the music was just bad, dated and everyone seemed bored. it was my last night ever at sugar daddys.
Dirty trashy just plain grimey
submitted by Eastsider for Sugar Daddy's Nightclub on October 6, 2013
Dirty nasty bathrooms blood in the toilet.
Rude washroom attendant and long long lineups for the bar and toilet. I hate going to a club where they kick u out right after last call.Way to many people jammed in a small place. Never again!
SHITHOLE
submitted by JB for Sugar Daddy's Nightclub on September 14, 2013
This place should be shut down
Before i got in there the bouncer looked like he wanted to beat the shit out of me
Trashy inside , horrible atmosphere stayed in there for 2 minutes then left.
ASSAULT AND NO PROFESSIONALISM
submitted by yves for Sugar Daddy's Nightclub on September 1, 2013
So 6 security guards against one man ? The reason because i had a bottle of alcohol in my hand that i didn't want to waste so i was giving shots out to random people in the club. they tried to taser me outside the club and sucker punch me as i was driving away trough my car's window. It's ok ill see you in court for that one security guard that tried to knock me out. Will be taking matters into proper procedures. I got a bunch of serious lawyers on my corner. Never going to a lower standard club.
Saturday night disappointment - June 29
submitted by Wasted Night for Sugar Daddy's Nightclub on June 30, 2013
The music started out fine, listened to the lta while driving to the club. then around midnight it started getting to "jungleish". the music went from r&b/hip hop to pure nonsense for the remainder of the night. the crowd is pretty ghetto and its gets very crowded. the bars are always rammed, many only have 1 bartender and next to impossible to get service. the only plus side is that drinks are $3 each - albeit watered down and impossible to get. it's unfortunate there aren't very many good r&b/hip hop clubs left in the city.
Supervisor at Cash Money
submitted by Alanna for Sugar Daddy's Nightclub on June 26, 2013
On saturday june 1st, 2013, i was truly disappointed with the service at sugar daddy's. It was my friend's birthday and we were coming all the way from the east of toronto. My friend had called the club to reserve a booth. No one answered her call, and on the voicemail, they didn't make it clear what time you needed to be there in order to keep the booth. When our crew of about 20 people arrived at the club, we were told to go to the end of the line. My friend let the doorman know that we booked a booth, and the doorman didn't care. He then told us all that we had to pay $10 for our entry. We were furious because he treated us as though we were savages who didn't understand english. He told us we couldn't "bud" the front of the line because they weren't letting anyone else in that way, yet we saw several groups of people going in using the same method that we were told was closed. Eventually after we witnessed such activity and reported it to the owner, we were able to join the front of the line. As we were going inside, the same doorman who told us we couldn't get into the club, and who was letting other people in for free assaulted my friend and she retaliated by pushing his hand away from her breasts. Because of that, he told security she was getting rowdy and needed to leave the club. They didn't let her in for about 20 minutes. I find it ridiculous and quite hypocritical that the doorman would tell us one thing, yet display a completely different action right in front of us. Needless to say, after that experience, my group of friends and i will never be going back to this club.
Assaulted
submitted by Shannon for Sugar Daddy's Nightclub on May 8, 2013
My friend and I attended sugar daddy's night club last week Thursday (may 2nd) and we were physically assaulted by one of the bouncer's around 3:00am in the parking lot. These men are a bunch of women abusers and We are currently in the process of suing them so that we can put a stop to this nonsense so please if you were there and witnessed this assault on may 3rd please contact me by email scallen2013@gmail.com.
More bullshit
submitted by Bullshit for Sugar Daddy's Nightclub on May 2, 2013
Sugar daddies is the worst fuckin club ever that old white pervert who owns it hits on young girls all the time and tries to speak patois when he's talkin to black ppl like all black ppl are Jamaican the music sucks they have a out door patio and you still can't smoke weed outside the bouncers are horrible the amount of women I've seen those bouncers assault is crazy I knw girls can get unruly hire sum fuckin female security to deal with the women and on top of it the cheap old white bastard advertise till 3 am and at 10 after 2 the lights are coming on the owner said why should I keep the club open if I can't serve liqour to think he drives a 2 door Bentley and he still being fuckin cheap he owns the whole plaza that sugar daddies is in overall sugar daddies is fucking wack I wouldn't go there if I was getting a ride and getting in the club for free it fucking sucks take your money and go to another club ooh and the drinks are watered down and the girls workin the bar try to steal or short change you all the time I absolutely hate it there so I f you old white cougars and bare mawga craw ye no batty looney girls and Hungary guys tryin to holler then go but aside from that!!!!!!!!!! I DO NOT RECOMMEND!!!!!!!!!!!!!!
Saturday Nites Sucks!!!!!!
submitted by Sandra for Sugar Daddy's Nightclub on April 30, 2013
DJ FAT CAT MUST GO!!!!!!!!!
HE SCATTERSS THE MUSIC ALL OVER THE DAMN PLACE, AND THAT'S WHY I'LL NEVER GO BACK THERE.
PLEASE, PLEASE SPEND SOME MONEY ON YOUR SOUND SYSTEM, IT IS SHITT!!!!!!!!!
latinas group to missisauga is coming
submitted by Caliente Latina for Sugar Daddy's Nightclub on April 27, 2013
Today april 27, 2013 how you think is gonna be? Can we stop by and have some real fun there tonight?
Saturday Night = Remedial Night
submitted by Erika for Sugar Daddy's Nightclub on April 22, 2013
What a horrible place and a waste of an outfit. I could've shown up in my pajamas and still been better dressed. The place is raunchy and disgusting. The music was HORRIFIC. I think it was the world's longest reggae set with maybe a tinge of soca. We arrived at 11:30pm and still paid $10 even though it advertises free for women before midnight. I thought G987 was going to be there but there was NOTHING G987-ish there. Unfortunately I have to go back for a b-day party but it's going to be on a Friday, where I've HEARD that it's way better, so pray for me that I don't have to go through this freak show party again! On a side note, if you're looking to get laid and don't care what an individual looks like, this is your place!!
WTF THURSDAYS!!!
submitted by sammy for Sugar Daddy's Nightclub on April 19, 2013
I LITERALLY JUST CAME HOME FROM SUGAR DADDY'S IT IS BY FAR THE WORST CLUB I HAVE EVER BEEN TO! DJ CONSTENTEIN IS THE SHITTEST DJ EVER ! I DONT KNOW WHY PEOPLE BIG HIM UP FORR!! AND CHRISTOPHER MARTIN WAS PERFORMING ON STAG WHO EVER THAT WAS ! BTW I WENT ON A THURSDAY WHERE I HEARD IT WAS SUPPOSE TO BE POPPIN!!! THERE ARE FAAAAAT WHITEE SLOPPPY BITCHES JUST ALL WHINING UP ON EACHOTHER IN THE MIDDLE AND EVERYONE IS JUST STAND SOUNDING THE CENTRE LIKE A MIDDLE SCHOOL DANCE! OLD ASS STALE CROWD A WHOLE BUNCH OF THIRSTY NIGGAS CAUSE A BUNCH OF UGLY BITCHES IN THAA CLUB! ANNNNND THE CLUB ENDED AT 2PM -___- COULDNT GET ANY WORSE ,,,, ONLY GO TO THIS CLUB IF YU WANT A GOOD LAUUGH DONT BOTHER DRESSIN UP GOING HERE EITHER. PEOPLE THERE LOOK LIKE TOTAL SHIT! MIXED WEIRD CROWD,,, I HAD A GOOD LAUGH BUT IM NEVER GOING HERE AGAIN!!!!!!!
party
submitted by andrew for Sugar Daddy's Nightclub on April 9, 2013
saturday night sugar daddys is always popping best day to reach
Not a review...just a question
submitted by BluEyez for Sugar Daddy's Nightclub on March 21, 2013
Will be in the area.....wanting to know if we should be hitting the club on Friday or Sat night.
Can someone please let me know
Thanks
Friday Nights
submitted by glamma gal for Sugar Daddy's Nightclub on March 8, 2013
went to sugar daddies for the first time on a Saturday night....hated it. Too crowded, too young... swore i'd never go back. Ended up back there for birthday party on a Friday night...loved it. Old school, mature crowd, not too packed... good vibes.
Agree
submitted by HEre and there for Sugar Daddy's Nightclub on February 4, 2013
In response to "violent bouncers a disgrace.." I saw this first hand.. Saw the bouncer push one of these girls right to the ground FOR NO REAL REASON.. The bouncer's thing they are god and are horrible... Love to manhandle women because they too scared to get in a guys face... Bouncers here need to be taught a lesson.. For Real!!!
violent bouncers a disgrace
submitted by lil C for Sugar Daddy's Nightclub on February 2, 2013
I have never been treated so badly in all my time going out to clubs! At other palces the bouncers treat me from professional and cordial to down right real kindness! Here they think it's okay to push women, toss women out with out jackets into the freezing cold, grab and toss you into walls and the groud! What's worse is the police seem to think this is ok! I call bull shit! All 3 of us were bruised up by these horrible people so watch out! Avoid this club!
WTF
submitted by ? for Sugar Daddy's Nightclub on January 27, 2013
Worst club by far fat white bitches in tight ass clothes, and ghetto ass ranchy people ..if ur looking to get felt up by a bunch of men heres ur club sugar daddys. Nasty ass club with no class.
WTF!
submitted by j for Sugar Daddy's Nightclub on January 27, 2013
ranchy ass club! So rachy!
Forget Rack City .. this is Ratchet city
submitted by Yolanda for Sugar Daddy's Nightclub on January 20, 2013
This club has nice music. Ive learned to start with the good then work my way to the bad. I have never seen so man red lace fronts in my life.. bums and tummys hanging out.. bitches about to pop mollys and babies at the club... this is not that place for you if you are not a ratchet seek urban dictionary for definition.. my experience here i hope will be forgotten.. sugar daddies legit means old men preying on young girls .. no sugar just pedos...
Boo
submitted by Boo for Sugar Daddy's Nightclub on December 8, 2012
I was there on a Friday and Saturday night both nights were alright .. Drinks are cheap .. Sound system is average they should fix that . Music was good.
Not what you expect
submitted by Z1035 Mary for Sugar Daddy's Nightclub on December 7, 2012
I'm so dissapointed in dj Constantine and Hammer to be honest with you. We hear them every week on the radio and its always wicked! When you go to the club to party though you don't get them at all. They play for the radio and that's all. They take off at 1 am. Gone. Done. BYE . Then some no names go on. They should stop being premadonas and play the whole night like they used to! This is bull shit. The exact same thing Danny D does when we go to see him. At least slick vic was there all night and was nice enough. I'm sure he will just take off too eearly when he gets better known.
Amazing night
submitted by Jonny for Sugar Daddy's Nightclub on November 30, 2012
Wow been down to all dem clubs in saga but nutin compared to this shit got greeted at the door like a true G should ...music was ill and the club was slamming the bitches were so dam sexy went home with two of them and my boy ill be back next week still
Keepin them hos in check
submitted by Charles for Sugar Daddy's Nightclub on November 28, 2012
This club is PERFECT for finding them hos that need some correction. Personally i witnessed some raggamuffin ho get snuffed for talking back and some sloppy bitch getting served for loud talking at the SAME DAMN TIME. Music was great. Chris, Ike turner throwbacks, some bobby brown.
Bitch ass niggas
submitted by Katie for Sugar Daddy's Nightclub on November 26, 2012
This club is a disgrace! I was physically abused by 3 big black bouncers! I can't believe as women I was hurt for protecting my lil sister I won't stop until these bouncers r brought to justic you scum of the earth disgrace to black ppl! Let me catch pussy hole slick Vick for standing there and watching his bouncers brutally beat me and my sister ! Karma is a bitch and I hope sugar daddies burns into ashes !
Need info
submitted by kevin wilson for Sugar Daddy's Nightclub on November 7, 2012
Does anyone know if Friday nights are still old school?
SUGAR DADDY'S TURNED BITTER
submitted by Ria for Sugar Daddy's Nightclub on November 4, 2012
Been around the club scene for awile, even worked at different clubs for many years. Love reggae, soca, R&B and this is why I decided to visit sugar daddy's. Great service from bouncers and security, beautiful decor, geourgous club so u think its going to be a great night......WRONG. The music was shit, just top 20 hits from the radio it seemed, the sound system was pathetic, no base, 1 speaker turned on really loud (I have better sound system in my house it seemed). You would think all the money they spend on making this club look good, they would also spend some money on the auditory, you need to feel the music to have a good time.....I will NEVER go back to sugar daddy's, I felt like I was back in one of my high school dances.
Crappy Club
submitted by JessicaRabbit for Sugar Daddy's Nightclub on November 2, 2012
I went to this place pretty recently to try it out & it was the worst time I have ever had anywhere! The security is on a power trip & unfriendly, not only that but they also start yelling and shoving people out right at 2am. It is so crowded from peope trying to leave that you are packed in like sardines & the bouncers are still yelling & pushing (anyone who is claustrophobic avoid this place). Then the patio which is suppossed to be the biggest is a joke! Small area and no working heaters. Bartenders were rude and although the drinks were cheap, they were mostly water every time. Dance floor sucks, starts off like a high school dance with guys standing in a circle around the floor, then later on everyone just stands on the dance floor and it is so packed that you can't breathe let alone move. The bathrooms were incredibly small (two people can hardly walk in there) and horribly maintained (even with a bathroom attendant who BTW is extremely unfriendly & actually rude) - drinks and vomit all over floor & lord only knows what else. Women were going into the men's bathroom several times because the lines were so long. To top it all off, majority of guys there were super creepy and extremely grabby invading personal space. This place is not worth the hastle & I will never go back! I hope they get shut down by the Better Business Bureau.
sucks
submitted by Matthew for Sugar Daddy's Nightclub on October 19, 2012
this was my first time and I will never go back!!!! my boys convinced me it would be a good time and it was horrid! the DJ sucks! this blonde guy thinks he's the greatest MC ever, he is so lost. my boy was always going for this one bartender who was apparently amazing but after finding out last night that she is no longer there he too has written off daddy no sugar. worst damn club ever!!! met some nice ladies who said they are there every week only because the drinks are free. if you have to give away your watered down liquor to get people in thats a tell tale sign. Thank God the bartender was cute. i'll never go back. The people who wrote good ratings on this club are probably staff trying to get people to come
what a nite...
submitted by James for Sugar Daddy's Nightclub on September 24, 2012
I was at the club on sat Sep 22 and the place was absolutely rammed there was barely any room to move. The club was really nicely decored which surprised me because a so many t.o clubs are dumps and plus the
place was packed with hot girls everywhere too bad I got so smashed and couldnt pick one up lol I wanted a booth but they were sold out, one of the staff told me without a reservation its almost impossible to get a booth on sat because they're so busy def next time ill call ahead so I can pop bottles in their VIP
Could be so much better
submitted by Allison H for Sugar Daddy's Nightclub on September 23, 2012
First of all the club is nice but the crowd is not. Second of all the music is good but the dj is not. Third of all the drinks are good but the bartenders are not.
It could have been a great Saturday Night but it's not. I had to leave at 12:30 because I was not having fun. Every time I heard a good song it was gone in ten seconds, if that wasn't enough the music wasnt rarely on beat and the dj played people just talking for some odd reason.. I got bumped and bumped from a crowd that was not very friendly. At least the doormen were nice and did ask why I had was leaving so early. I just smiled and said I had to go, like they really care about my not so great night.
sugar daddys night club
submitted by chantell for Sugar Daddy's Nightclub on September 14, 2012
i was at sugar daddys nighy club the party was live and the MC killed wow i never seen a guy dance that goood lol ummmmmmmmmmmmm
long weekend sat.
submitted by Jessie for Sugar Daddy's Nightclub on September 3, 2012
i was sugars on labour day long weekend sat and it was a insane nite of partyin and drinkin, OMG was the music ever so good. was very happy drinks were $3 as advertised unlike some other clubs that tell u sometin else wen u get there place was busy too, a little too busy for my taste but sur beats dead, loved it look forward to comin bac soon
saturday night at sugarrrr
submitted by ashely for Sugar Daddy's Nightclub on August 27, 2012
Had a amazing time one tall bouncer was soooooo hot and he can really hold his own when the fight broke out ummm over all sooo much fun and great music BEST CLUB IN MISSISSAUGA for sureee .
saturday at suga
submitted by johhny for Sugar Daddy's Nightclub on August 27, 2012
amazing club bouncers did a amazing job handling problems crazy packed a lot of girls best club soo far i have ever been to
crazy fri nites in sauga
submitted by Trevor for Sugar Daddy's Nightclub on August 25, 2012
was there fri aug 24 and they had a special guest dj and this man killed it, the party was insane aparently hes the main dj for sat nites so ill def be returning tonite dj u did an AMAZING job
LUV their commercial on Z
submitted by TunesReviews for Sugar Daddy's Nightclub on August 24, 2012
not only do i love going to this club on thursdays because of constantines little twists in his songs I actually really lov their ad on Z1035 with bennie man its soo catchy i was wondering if any1 noes where i can get a copy of it?
The REAL DEAL
submitted by Steph for Sugar Daddy's Nightclub on August 18, 2012
Sugar Daddys is the real deal, went to there friday party tonight and it was live! the crowd was a bit older but u can tell they just wanted to party no douchebags lol drinks were super cheap and the bartender was soo nice, got to speak with the mc who was a very nice guy
DANCEHALL, REGGAE, HIPHOP!!! SUGARDADDY!!
submitted by WonderWoman for Sugar Daddy's Nightclub on August 13, 2012
partiiieeeed hard last sat at sugarr daddies i reeeli like the music dj killing it over there! never knew mississauga club is so busy not going downtown no more too much hassel. very nice keep up the good work and will be back soonn :)))))
TO Saturdays
submitted by Ryan for Sugar Daddy's Nightclub on August 11, 2012
Haven't been to a better Saturday Night party in TO from out of town will be back to check it HOTTEST girls everywhere party is slammed
OLD SCHOOL FRIDAYS!!!!!!
submitted by Tanya for Sugar Daddy's Nightclub on August 11, 2012
just got home from suga daddy old school friday! got to find out the djs name Max b. the man spins a old school chunes, reggae, hip hop...etc. good nite wit cheap drinks def sauga jus got beta, dissapointed cause i coudlnt get a booth because it was sold out but stylll amazing night!
Sugar Daddy MAWD!!
submitted by Simon for Sugar Daddy's Nightclub on August 10, 2012
Was there for Caribana weekend party last thurs aug 2 and Constantine torr up the roof!! Slick, hammer killing it on Z. Good to see its still busy after all these years DEFINATELY the place to be in t.o.
Stop it
submitted by Trianna for Sugar Daddy's Nightclub on August 5, 2012
Was ok the first time, then it got boring. I think they play the same cd on Saturday. I know the order of every song. Not just that, the blond mc keeps grabbing himself when he dances and keeps staring at me and he looks older then my father.
Horrible
submitted by Jack for Sugar Daddy's Nightclub on July 30, 2012
Sent an email for bottle service, a confirmation email... NO REPLY. Went there no one could answer my question in regards to bottle service. Still got a booth for 12 of us. 3 more coming asked manager (SOME MONEY HUNGRY BLONDE GUY) if they could get in quickly (Hence already buying 2 bottles at $400... that should get you some customer service leeway... naaaaa beyatch) said "No sorry nothing I can do." What the hell your the manager no? Anyways music was very good must admit but customer service WORST EVER. Also, one of my friends was intoxicated but was not bothering anyone, sleeping on VIP couch. Skinny bartender calls for security saying we had to leave. We was like "Naaaa we got him." A word to the security there... "When you leave Sugar Daddy's, your then a regular civilian... and dudes will wait for the club to finish." Hint dummies. Sugar Daddy's MANAGER, treat your customers who put $$$ in your pocket with more respect next time cause when you paying $150 for a bottle that's really $24.95... A 500% increase, you should be able to let people who are part of that collective a line by-pass. Also, How do you have bottle service and still have to pay an entree??????? Lucky we just wanted to have fun otherwise club shut down..... Should have went to Guvernment!!!!!
DUMPPP
submitted by Tasha for Sugar Daddy's Nightclub on July 20, 2012
This place looks nice only on camera, when you get there its a DUMP!!!!!!! Im sticking to downtown toronto more classy then mississaugas barnyard sugarcaddy lmao
MEN HITTING WOMAN
submitted by Sam for Sugar Daddy's Nightclub on July 20, 2012
I witnessed a women get slapped and shoved to di floor by security yesterday :o I dont know her or her crowd from nowhere and i dont see them act rude towards them but what I do know that was not right for man to hit womannn, and the owner do nothing but laugh and kick her out. She should sue them or get them shut down for that. This why ppl and clubs get shot up. Sugar daddy look like they are next!!!!!!!!! Okay drink price, okay music but still IM NEVER GO BACK AGAIN
No Shorts in the Summer..?!
submitted by Trev for Sugar Daddy's Nightclub on July 20, 2012
Me and 4 other people go to sugar daddy's last night. Not only were the security rude and unprofessional but they sent home my friend for having on dress-shorts..!! Mind you he had a clean cut bald head and dress shirt to go with. My friend pay 40 in a cab to go home and back. When he got back security denied him access and told him to pay 20 additional dollars when it was still before 11pm, which is considered to be the free entrance time. Radio and online promotes that time. Radio should NOT associate with this club, and nowhere online does it say no shorts either..!! I will stop listening to radio that support this club and i will make sure my fb list of 1068 friends do not go there either..!! Im not being bitter, Im being honest when i say it was my worst clubbing experience ever!!
Guards Bashing
submitted by Tone for Sugar Daddy's Nightclub on July 20, 2012
De WORST CLUB I ever been in my life my last night visiting Canada. And they take me to sugar daddy. One of my friend went out to come back in and when returning to go back inside the guards. Stop and said he don't remember and the other one said he do. She ask for a refund and the guard got vex and push her off the side wall. Then when Infront and slap her in the face. DON'T EVER EVER GO TO THIS Club it's a nightmare
Diss-appointed
submitted by Bev for Sugar Daddy's Nightclub on July 7, 2012
Advertise as the club to be....so disappointed. Took in the scene on Friday July 6..Got there @ 11:00...left @ 1
:00, keep hoping the music would get better. as DJ sucks (big time)...do not know how to spin. Music was all over the place..All house music.. Need to listen to 105.5 on a thurdsay morning starting @ 7:00 am to hear how music flow. Cant believe 98.7 is associated with this crap...Rating of 2 for venue only. Will never go there again...no referral from me....PEACE
DANCEHALL INVASION!
submitted by Amy for Sugar Daddy's Nightclub on June 29, 2012
IF you're looking for a good cheap night out away from all the downtown Toronto madness, then THIS IS YOUR PLACE to be!
Dancehall, Soca, Reggae, hip-hop, a bit of top40 and some old school mashups this club is live and poppin thursday with z103.5, friday with oldschool and saturday with G98.7!
Most mixed drinks and shots are $3 and ladies are free before midnight, and guys are $10 almost the whole night, (I believe).

If y'all don't love soca, dancehall etc, then don't hate.
This is club is chill, and relaxed as per the dresscode, so don't be expecting all high class fancy nonsense. LOVE THIS CLUB!
Still poppi
submitted by nikki for Sugar Daddy's Nightclub on June 29, 2012
If you're looking for an economic night out, with reggae, dancehall, soca, hip-hop and some other mashups then THIS is your place to go!
People hate, because it's not just like any other club in Toronto where they play a mix of everything. Saturday nights are even more live now, with G98.7 killing the chunes with more dancehall and soca!
Drinks are cheap, they could have more bartendars working, and the dj and owner and security guards are all good at what they do!
worst security/treatment
submitted by allison for Sugar Daddy's Nightclub on June 8, 2012
Went there Thursday June 07 with a friend from out of province. We are all professional, classy and educated WOMEN. However at the end of the night me and my friend were actually rushed by 5 security guards taking our drinks and telling us "you know the drill" Ummm no I don't and you don't treat people that way... Furthermore when I tried to respond a hand was put in my face and I was told to shush or I would be removed from the bar... I was absolutely disgusted... Let me add that the "club" was still full of people... They weren't taking drinks away from men either... Wouldn't recommend going to a place like this if you actually have class and self respect. Men like that-gross!!
NEVER GOING BACK AGAIN
submitted by Trina for Sugar Daddy's Nightclub on May 27, 2012
Bouncers are the worst here!!! I'm a female and a male punched me in my face right in front of 5 bouncers and not one of them did a thing!!! The Bartenders water down your drinks too much and The music is very repetitive, nothing but Soca all 3 nights the club is open. Place SHOULD be shut down!!!
Not so good anymore
submitted by C Poppa for Sugar Daddy's Nightclub on May 26, 2012
I have been here many times over the years. It used to be a good place to party in the west end. Some nights were busier then others but always a good time. Well thats in the past. The crowd and the dj has changed, so has the music and the fun. It kinda sucks actually. The only good thing that is still the same is the owners father who stands out the front with the door staff. He always takes care of us and is so nice.
bottle/booth
submitted by Alishah for Sugar Daddy's Nightclub on May 5, 2012
how much is it for bottle &booth service here at sugar daddys?
Just a guest..
submitted by Ian for Sugar Daddy's Nightclub on April 27, 2012
By far, worst club in the GTA. The staff and security are by far the worst I have ever encountered. Got bottle service fpr me and my guests and got ruddly escorted/ draged out of the club because I did not drop the drink after 2am, mind u we had bottle service. The security there should be reminded that they are there to keep peace and not to harass paying customers. I'm very dissapointed and would never go back to that sh#t hole. Some of the security personel should be kept on a leash and be reminded that we are the ones that make the club happen and they get paid with our money... I will never go back. ..
GREAT !
submitted by Aly for Sugar Daddy's Nightclub on April 12, 2012
There were soo many people and the music was great. Bar service was kind of crap, took too long. other than that it was great.
Gueslist
submitted by trynah partay for Sugar Daddy's Nightclub on March 13, 2012
Where the eff is the guest list for this place? Calling them to get VIP is for nothing. The voice mail box is full and emailing them does nothing.
Somethings Wrong!
submitted by Alix for Sugar Daddy's Nightclub on January 29, 2012
Place is just not right tonight, I was here on Thursday and Vic and Constantine worked like pros, The party was hype. Tonight, just 2 days later its like a house party. I look at the booth and I don't see a Vic or Cons. The music goes from quiet to pounding my heart out. The vibe is awefull and I won't be comming back for this. Hopefully vic and cons are just away for the week on a Z103 trip.
It's all about D.J. Constantine
submitted by Charissa for Sugar Daddy's Nightclub on January 26, 2012
D.j. Constantine, is the man! I love listening to his mixes, even if i can't make it to the club Thursday Nights I just listen to him Live to Air on Z103.5.

Keep Up the good work! And I Love the little Constantine twists you create in the songs. I will be listen tonight all night!
Cheers,
Charissa xo
Fridays R Good
submitted by Tisha for Sugar Daddy's Nightclub on December 10, 2011
I just got home from a birthday party there and Fridays are the best. Really good music.
Good Club with Maaaad Beats!
submitted by Kylee - K.H. for Sugar Daddy's Nightclub on November 30, 2011
This place is wicked! The place is usually hoppin especially Thursdays and most Saturdays but you may just prefer fridays as I do. djconstantine always drops the maaaadest chunes every night but on friday there is way way more room to dance and I can get the stripper pole all to myself :P
Beenie shell the building
submitted by CJ Records for Sugar Daddy's Nightclub on November 20, 2011
Beenies the godfather of dancehall music and the show was a good hour,, the club was too packed though and hot but the people were happy. don't hate..... constanteen was rude on the spins too. Maaad juggling.
bBeenie man concert nov 5 2011
submitted by nadz for Sugar Daddy's Nightclub on November 6, 2011
For over two weeks they had advertisements every where to promote there beenie man event it was advertised through various radio stations, on their website and flyers. that the admission fee was $20 however after standing in line for over an one and a half hr and beenie man was already performing they announced that the gate price was doubled to $40 there was nothing in there adverts that said was gonna be ddoubled after 1:30 am. This club should be shut down. What they did was cruel the security guards was standing outside laughing it was so disgraceful.
Check out dj Constantine
submitted by Mr. DJ Review (CStar) for Sugar Daddy's Nightclub on September 26, 2011
The club is nice, busy and has been around for at least 8 years. Good enough. DJ Constantine is there 3 nights a weeks and he is Crazy! Not is he only one of the best dj's in the city but he is rated highly around the world. He has a huge show on Z103.5 for years and technically no one can touch him especially the last few years where he is specializing in Dancehall and when all other dancehall dj's are just cutting and dropping.
Yes I'm a fan and I love to hear him spin in person or even his conservative and restricted sets on the radio. Check him out at Sugar Daddy's where you will always find him. He should get out more though and play a few different clubs where he could wow a larger live audience. I don't do if he's getting old and complacent or he just makes bad business decisions but staying in just one place all your nights is not exactly the best way to advance your popularity and career… Especially when it's outside the downtown core.
Stay Away Fridays
submitted by Jessica D for Sugar Daddy's Nightclub on September 10, 2011
I like to party here but Fridays are not fun at all. Only one type of music (reggae) all night with a screaming MC that you cant understand. It's a bad dream! Not at all like I hear on the radio. Try another night or stay away.
WORST CLUB EVERRRRR!
submitted by WEE ONE for Sugar Daddy's Nightclub on August 30, 2011
Bouncers at this club are the most juiced up goons around! You party all night and then they power trip to get you out by any means necessary. Even if it means pushing a female to the ground ( this happened to a friend of mine ) This place is low class and not worth 1 penny spent- steer clear!!!
Baddest Music
submitted by Layton Collins for Sugar Daddy's Nightclub on August 28, 2011
Big up Dj Constantine. The man run the dancehall scene in the city. You can hear him every week on the radio on 103.5 or just go to the club an see him live.
This place is hype
submitted by B.O. Bama for Sugar Daddy's Nightclub on July 26, 2011
Check out Thursdays and get there early, it's poppin. Door staf is not a problem unless you are dressed like some thug.
The place is a joke
submitted by Mark for Sugar Daddy's Nightclub on July 14, 2011
The head of security and most of the outside security staff look down on the urban staff that occupies this club. The security were very rude! I go to upscale clubs all the time in Toronto and have never come across bouncers like these! The club was nothing special. Decent music. It reminded me of a college party, except it was in a club. I won't waste my time there again and FYI some professional upscale security. They make the club seem very cheap and low!
Live on Z103 every Thursday!
submitted by Sexy Lexy for Sugar Daddy's Nightclub on June 14, 2011
If you love the newest and biggest dancehall, hip hop and soca then this is the place! When I cannot make it to the club I tune in to z103.5 on Thursday night to hear Dj Constantine play the baddest tunes! Check it!
Still busy
submitted by Jackie B for Sugar Daddy's Nightclub on May 27, 2011
After all these years the place is still busy. Same old Sugars!
West end blues
submitted by Frank P for Sugar Daddy's Nightclub on May 18, 2011
Nice club, too bad it's not downtown. Great dj, too bad he's not downtown.
Not a good Time
submitted by Jordan for Sugar Daddy's Nightclub on April 9, 2011
If your looking to party in Mississauga your better to make the trip to Toronto. There was rude bouncers, way to much $$$ wen it comes to cover, and of course it was more dead then a fish out of water, steer clear everyone
Big DJ line up!
submitted by B. Cooper for Sugar Daddy's Nightclub on March 28, 2011
I was there for the first time about a month ago because they had a big dj line up including Spex, John James and Constantine. The place was nice and classy with some booming sound on the dance floor. Very very busy with some hot females. The party hype.
Spex put on a big dancehall show, then Constantine went on the close and blew the roof of the joint with even hyper dancehall! The girls jumped on the stage and went just mad! Good Times!
Ms.
submitted by Jackie for Sugar Daddy's Nightclub on February 20, 2011
Sugar Daddy's is and has been the place to party in Mississauga for years. The crowd is a nice mix and the party is always great, especially Thursday and Saturdays which are just packed. Anyone talking trash must have an agenda from another club or promotion. Clubs don't last this long if the party is not exceptional. You can hear it live on Z103.5 every Thursday night at 10 pm. The music is always awesome with DJ Constantine, Hammer and Slick Vic. I always listen when I can't be there.
Stay Away
submitted by Simply for Sugar Daddy's Nightclub on January 28, 2011
I was at Sugar Daddy's last night (Thursday, January 27, 2011) and was not impressed. I've heard so much hype about this place and was expecting to have the night of my life, but I didn't get it. The music was garbage.

I suggest you stay away from Sugar Daddy's. Don't waste you time, money, energy, a new or old outfit on this place. You would have more fun having sex with random strangers and hoping u don't catch a disease than being here
Sugar daddy fight night
submitted by Bkm442 for Sugar Daddy's Nightclub on January 19, 2011
Rough crowd,bad music and ugly staff. If you want a good time stay away. Not worth the cab ride
Daddy's is a Mississauga Hotspot
submitted by Jackie for Sugar Daddy's Nightclub on April 25, 2010
This Mississauga landmark club has been going strong for 8 years. Packed Thursday, Saturday and even most Fridays. Z103 is in the house on Thursdays broadcasts the party live on the radio. The crowd is a good mix and is dressed casual but nice. The club itself is nice upscale with a large patio that has many booths and a huge rock waterfall. Constantine, a very popular downtown dj is the resident all 3 nights since the club opened.
Check this place out if you plan to party in Mississauga.
Load More Reviews